July 01, 2009
For Release: Immediate
Press Contact:
Eileen Larrabee
Dan Keefe
518.486.1868
Expansion of Gantry Plaza State Park Continues Revitalization of Queens Waterfront
New promenade, lawn and athletic field double size of Long Island City Park
The New York State Office of Parks, Recreation and Historic Preservation, Queens West Development Corp., and the Port Authority of New York and New Jersey today opened a new 6-acre portion of Gantry Plaza State Park, featuring a waterfront promenade along the East River, an open lawn, new athletic field and reconstructed cove and wetlands. The park is an integral component of the planned 40-acre project to revitalize the Long Island City waterfront undertaken by ESDC subsidiary Queens West Development Corp. that includes residential units, retail space, two public schools and park land.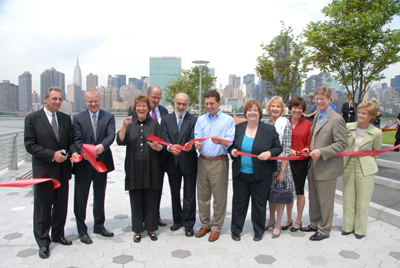 "The opening of this new 6-acre portion of Gantry Plaza State Park is another significant step towards the transformation of Long Island City," said Governor David A. Paterson. "Through the revitalization of the Queens West waterfront we are generating new businesses, job opportunities, housing and improving the quality of life for the people of Queens. We hope that everyone will come and spend some time at Gantry Plaza State Park this summer."
"Gantry Plaza State Park exemplifies how parks offer places for relaxation and recreation in even the most unlikely places," said State Parks Commissioner Carol Ash. "Today we celebrate the continued transformation of what was once an underutilized industrial site into a beautiful park, providing access to the East River, a tranquil community gathering place, and striking reminders of the site's industrial past."
"Major initiatives on the waterfronts are key investments for New York and as we look to rebuild and strengthen our economy we can build on the successes of projects like Queens West," said Empire State Development President & CEO Dennis Mullen. "Queens West has made enormous progress and continues to flourish with ongoing residential development, a variety of recreational options, a successful public school and today's opening of a new portion of Gantry Plaza State Park. We encourage New Yorkers and visitors to come and discover Gantry Plaza State Park this summer."
"We are excited to provide this beautiful new world-class park for the Long Island City community and hope that everyone will come to explore it this summer," said Queens West Development Corporation President Paul Januszewski. "Gantry Plaza State Park provides an array of recreational options for its visitors, including beautifully landscaped areas for lounging, sports facilities, picnic areas, and spectacular views of the Manhattan skyline. Today's announcement demonstrates the State's continuing commitment towards the transformation of the Queens waterfront into a vibrant and thriving community."
"The expansion of Gantry Plaza provides more room to play and more places to learn," said Christopher Ward, Executive Director of the Port Authority of New York and New Jersey. "The Port Authority takes tremendous pride in our work with Empire State Development Corp and I would like to personally congratulate and thank all of our partners in Queens West who contributed to this project's success."
"Gantry Plaza State Park has become a great place for families and friends to gather for recreation and relaxation in Western Queens," said Assemblywoman Catherine Nolan. "The new addition to Gantry will bring even more to the already spectacular park; I encourage all residents to take advantage of all that the park has to offer."
"Today we're taking yet another step towards opening up the Queens waterfront while also creating much needed green space for families," said Councilman Eric Gioia. "For most of my life the waterfront has been cut off from the people of Queens - but today we have schools, parks, and housing that is fueling a cultural and economic renaissance for Long Island City and Queens. The Queens waterfront should be a place where all New Yorkers can come to have a picnic, walk or jog along the water, or just relax and enjoy the views."
"Less than a week ago we gathered near here to celebrate the acquisition of land for Hunters Point South and now today we come back to celebrate another chapter in the continuing success story of development on the East River waterfront in Queens," said Queens Borough President Helen Marshall. "This six-acre portion of Gantry Plaza State Park is a unique venue which blends the area's history with the future. It has waterfront access, spectacular views and recreational uses that will appeal to visitors of all ages. I thank the State Office of Parks, Recreation and Historic Preservation and the Empire State Development Corporation for doing such a great job here, and, as a longtime supporter of the entire Queens West development, look forward to working with you as we continue to build the future."
"Queens West Development Corporation and its leadership deserve great credit for the quality of their work and their persistence through all the obstacles involved in a project of this scale. It's exciting to think about the community's enhanced access to the East River and the incredible vistas of New York City," said Dr. Lucy R. Waletzky, Chair of the New York State Council of Parks.
The new section more than doubles the size of the 11-year-old Gantry Plaza State Park, bringing it to 10 acres in all. In addition to the bench-lined promenade, grassy lawn and nearly two-acre multi-purpose playing field, the new area will include an 8,000-square-foot children's playground - which will be built after the summer and opened next year.
The riverside oasis boasts spectacular views of the midtown Manhattan skyline, including the Empire State Building and the United Nations. The original part of the park features four piers - including a fishing pier with cleaning table - manicured gardens, unique mist fountain, granite-paved plaza area, basketball courts, playgrounds and handball courts. The park takes its name from the prominent restored gantries, the overhead suspension systems that the Long Island Rail Road built to load and unload floats and barges transferring rail cars across the river.
The Queens West site spans from Anable Basin to 50th Avenue, east of 5th Street. QWDC is constructing roads, utilities, and parks, as well as overseeing construction of the area's schools and a public library. Private developers are constructing residential buildings, providing over 4,000 units of housing.