March 03, 2011
Dan Keefe
518-486-1868
State Parks Taconic Region Headquarters Awarded Highest-Level LEED Green Building Certification
Transformation of historic school outside Poughkeepsie was made possible by $3 million gift from
Dr. Lucy R. Waletzky
First LEED Platinum award for a public building in New York State
New York State Parks announced today that its Taconic Regional Headquarters has been awarded Platinum-level LEED® certification by the U.S. Green Building Council and verified by the Green Building Certification Institute (GBCI). The adapted school building is the first public building in New York State to win LEED Platinum for new construction or major renovation projects - the highest level of certification for the design, construction and operation of high performance green buildings.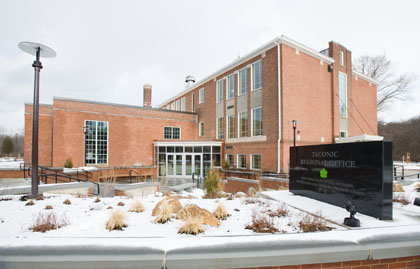 The renovation of the school house was a good example of a public private partnership and now that State Parks are in such hard financial times I'm hoping other private individuals will help financially support their park friends groups and larger park infrastructure," said Lucy R. Waletzky, Chair of the New York State Council of Parks.
"Buildings are a prime example of how human systems integrate with natural systems," said Rick Fedrizzi, President, CEO & Founding Chair, U.S. Green Building Council. "The State Parks Taconic Regional Headquarters project efficiently uses our natural resources and makes an immediate, positive impact on our planet, which will tremendously benefit future generations to come."
"Investments in energy efficiency and sustainable building materials are the most cost-effective measures state agencies and local governments can make to control costs, reduce energy consumption, and cut greenhouse gas emissions," said Francis J. Murray Jr., President and CEO of NYSERDA. "I commend State Parks for the high priority it has placed on conserving energy, protecting our natural resources, and preserving our environment. The project is emblematic of Governor Cuomo's commitment to expand opportunities for energy efficiency, which will help reduce the cost of government and for doing business in New York."
The transformation of the former Staatsburg School into a highly energy efficient and sustainable building was made possible by a $3 million gift from Dr. Waletzky toward the $7.9 million project. Reuse of an existing building, the 1930 Staatsburg School in Mills-Norrie State Park, was a significant factor in reaching the platinum level certification. Other factors included:
Significant energy use savings through a geothermal heat pump system to heat and cool the building; electricity-generating solar panel arrays, highly energy efficient windows, innovative insulation methods, and state of the art efficient lighting.
Increased ventilation rates and use of low VOC-emitting products (such as glues, paints and carpets) to improve air quality.
New materials such as carpet, demountable partitions, and ceilings made with a very high percentage of recycled content, and other finishes made with renewable materials such as cork.
Low-flow sinks, dual-flow toilets, and waterless urinals to save water.
Permeable pavement and parking as well as the removal of excessive site hardscape to reduce stormwater runoff.
"Daylighting" a nearby stream that had been diverted into a drainage pipe and restoring the stream bank.
It's estimated that the building uses 70 percent less energy than the average office building in the Mid-Atlantic region. The project was designed by State Parks architectural and engineering staff, with consulting from Barton and Loguidice, P.C.
Construction of the Taconic Region's new headquarters was supported by more than $128,000 in incentives from the New York State Energy Research and Development Authority (NYSERDA). This funding helped offset the purchase and installation costs of the building's energy efficient and green building measurers, which are anticipated to reduce its energy costs by nearly $40,000 annually.
State Parks also was awarded a NYSERDA High Performance Building Plaque in recognition of the energy-saving measures installed in the building. The plaques are presented to hospitals, libraries, schools, businesses and organizations that have constructed buildings designed to perform at least 30 percent above the New York State Energy Conservation Construction Code. The new Taconic Region headquarters building is estimated to perform 53 percent above code and is New York's 41st recipient of this award.
New York State Parks
The New York State Office of Parks, Recreation and Historic Preservation oversees 178 state parks and 35 historic sites. Margaret Lewis Norrie State Park, established in 1934, and Ogden Mills and Ruth Livingston Mills Memorial Park, established in 1938, were consolidated in the 1960s and collectively total 1,093 acres along the Hudson River. For more information on any of these recreation areas, call 518-474-0456 or visit www.nysparks.com.
U.S. Green Building Council
The Washington, D.C.-based U.S. Green Building Council is committed to a prosperous and sustainable future for our nation through cost-efficient and energy-saving green buildings.
With a community comprising 80 local affiliates, more than 18,000 member companies and organizations, and more than 155,000 LEED Professional Credential holders, USGBC is the driving force of an industry that is projected to contribute $554 billion to the U.S. gross domestic product from 2009-2013. USGBC leads an unlikely diverse constituency of builders and environmentalists, corporations and nonprofit organizations, elected officials and concerned citizens, and teachers and students.
Buildings in the United States are responsible for 39% of CO2 emissions, 40% of energy consumption, 13% water consumption and 15% of GDP per year, making green building a source of significant economic and environmental opportunity. Greater building efficiency can meet 85% of future U.S. demand for energy, and a national commitment to green building has the potential to generate 2.5 million American jobs.
For more information, visit www.usgbc.org.