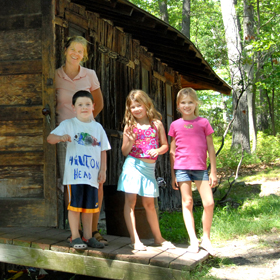 Harriman State Park, located in Rockland and Orange counties, is the second-largest park in the parks system, with 31 lakes and reservoirs, 200 miles of hiking trails, two beaches, two public camping areas, a network of group camps, miles of streams and scenic roads, and scores of wildlife species, vistas and vantage points. Harriman State Park's major facilities include Lakes Welch, Sebago, Tiorati and Silvermine, the Anthony Wayne Recreation Area, Sebago Cabins and Beaver Pond Campgrounds.
Group Camps:
Beginning in 1913, the Palisades Interstate Parks Commission built dozens of group camps throughout Harriman State Park to welcome the urban poor and provide them with hot meals and outdoor experiences. The Harriman Group Camps are the model upon which many group camping programs and sites throughout the world are based. The facilities at the camps, which are nestled in the woods next to the many lakes at Harriman State Park, consist of dining halls and recreation buildings, cabins and tent platforms, and waterfront facilities. Nature Centers offer environmental education programs designed to teach campers about the woods and instill in them a lifelong sense of wonder for the natural sciences.
For generations, the group camps have provided children and families with their first outdoor experiences. The camps are operated by a wide variety of organizations, from outdoor recreation clubs to not-for profits servicing homeless children and the disabled, from the surrounding New York and New Jersey area. The organizations are members of the Palisades Camping Association (PCA).
Harriman Group Camp Descriptions/Info
Current Water Quality - Beach Results
Pets: Dogs only, must be on a leash not more than 6 feet at all times. Not allowed in buildings or beach/bathing areas. Must display rabies tag.
Not permitted in the following areas of Harriman State Park: Beaver Pond Campground, Welch Beach, Sebago Cabins.
Mailing Address
Palisades Interstate Park CommissionBear Mountain, NY 10911
Fees & Rates
Vehicle Use Fee

There are only vehicle use fees at the following locations within Harriman State Park between Memorial Day Weekend and Labor Day Weekend.

-Lake Tiorati, daily
-Lake Welch, daily
-Lake Kanawauke, weekends and Holidays only
-Silvermine, weekends and Holidays only
Maps

New! Download this park's digital map to your iOS Apple and Android device.
Firewood source maps show a 50-mile radius from which untreated firewood may be moved to this campground. For more information see firewood restrictions.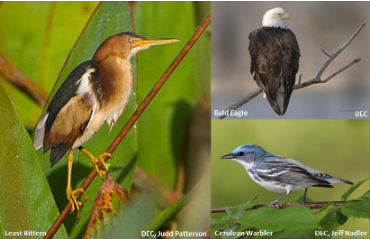 Key BCA Criteria:
- Waterfowl concentration site
- Migratory concentration site
- Diverse species concentration site
- Species at risk site
- Bird research site
The Iona Island/Doodletown BCA is located within the Bear Mountain and Harriman State Parks. The area includes one of the largest tidal wetlands in the Hudson River. The ecological importance of Iona Island has been recognized through designation as: Hudson River National Estuarine Research Reserve, Significant Coastal Fish and Wildlife Habitat Area, and National Natural Landmark. The Iona Island area is an approximately 270 acre tidal wetland that ranges from freshwater to brackish. It is dominated by narrow leaved cattail. Non-vegetated tidal flats, sub-tidal aquatic beds, and rocky uplands also occur. Tidal creek channels and a high gradient freshwater creek are also present. The Doodletown portion is largely a steep, rocky, undeveloped forest land that hosts a wide array of forest-nesting species, including rare warblers. The area as a whole provides highly valuable habitats for: marsh- nesting birds, waterfowl, warblers, shorebirds, eagles, amphibians, reptiles and fish spawning and nursery areas.
Listed species include Bald Eagle (threatened), Least Bittern (threatened), Cerulean Warbler (special concern), Golden-winged Warbler (special concern), Osprey (special concern), Northern Harrier (threatened) and Pied-billed Grebe (threatened). Other bird species using the Doodletown area include Hooded Warbler, Kentucky Warbler, Louisiana Waterthrush, and Acadian Flycatcher. Over 165 bird species have been observed within the Iona Island/Doodletown BCA.
Download a copy of the BCA map.