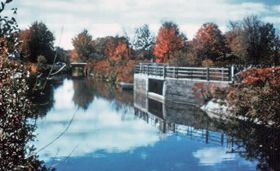 Old Erie Canal State Park is a 36-mile stretch of the 363-mile Old Erie Canal, which has been designated a National Recreational Trail by the National Parks Service. The terrain is woodland and wetland that present opportunities for hiking, picnicking, horseback riding, bicycling, canoeing, fishing, and snowmobiling. Several areas have footbridges that aid access to the canal towpath where visitors can view the remnants of stone aqueducts.
This park offers reservable picnic shelters at Cedar Bay Picnic Areas. Cedar Bay Park is operated under a cooperative agreement with the Town of Dewitt. Please call 315-446-9250 for more information.
Facilities such as the Chittenango Landing Canal Boat Museum and the Canastota Canal Town Museum are involved in preservation, interpretation, and recreation along the waterway.
Hours of Operation
The park is open year-round sunrise to sunset.