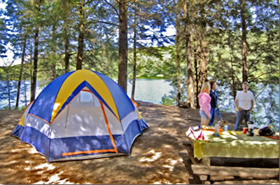 Cherry Plain State Park has 175 acres and features a day use picnic area on Black River Pond, with a comfort station nearby. The park also has a boat launch, bridle paths and hiking, biking and nature trails that serve for cross-country skiing in the winter. Anglers fish for bass, bullheads and pickerel and may also ice fish in winter.
The park has 10 trailer sites, 10 lakeside tent sites as well as 10 "hike-in" tent sites available for overnight camping.
Pavilion Information
Cherry Plain has two pavilions/tents. Prices range from $75 to $100 and can accommodate 80 to 100 people. Check availability at ReserveAmerica.com.
Current Water Quality - Beach Results
Pet Policy: A maximum of two pets are allowed in campsites and day use areas unless prohibited by sign or directive. Pets are to be supervised at all times and either be crated or on a leash not more than 6-feet in length. Proof of rabies inoculation shall be produced if requested by staff. Pets are not permitted in playgrounds, buildings, golf courses, boardwalks, pools and spray-grounds or guarded beaches (this does not apply to service animals).
Hours of Operation
Park Office Contact Numbers -
May-Labor Day: 518-733-5400


September-April (facility closed for season) Call Grafton Lakes State Park 518-279-1155

2022 Camping Season:
5/27 - 6/30: Weekends only

7/1 - 9/5: Open Thursday– Monday (Closed Tuesdays/Wednesdays)

2022 Day Use and Picnicking:
5/28 - 6/30: Weekends only
7/1 - 9/5: Open Thursday– Monday (Closed Tuesdays/Wednesdays)
Fees & Rates
Most New York State Parks charge a vehicle use fee to enter the facility. Fees vary by location and season. A list of entry fees and other park use fees is available below. For fees not listed or to verify information, please contact the park directly.
The easy-to-use Empire Pass card is $80- and your key to all-season enjoyment with unlimited day-use entry at most facilities operated by State Parks and the State Dept. of Environmental Conservation including forests, beaches, trails and more. Purchase online or contact your favorite park for more information. Learn more about our Admission Programs including the Empire Pass.
Vehicle Entrance Fee

$6 per passenger vehicle
$35 per non-profit group bus
$75 per commercial bus


Collected: 5/28 - 6/30, weekends only; and 7/1 - 9/5 Thursday– Monday (Closed Tuesdays/Wednesdays)
Boat Rental

Deposit of $20, plus a form of ID is required for each boat.
Rowboats - $5 per hour
Kayaks - $4 per half hour

Camping
$12-$19/night

*Additional $5/night for non-NYS residents

Camping fees are listed on www.reserveamerica.com.
Additional Documents
Maps

New! Download this park's digital map to your iOS Apple and Android device.
Firewood source maps show a 50-mile radius from which untreated firewood may be moved to this campground. For more information see firewood restrictions.
Hunting permit dates coincide with the NYS DEC hunting permit dates. A valid hunting license is required to obtain a hunting permit.
2020 Hunting Permit Procedure for Grafton Lakes, Cherry Plain and Bennington Battlefield
Renewals – If you have a hunting permit from within the last 2 years and would like to renew it, please call (518-279-1155) or email (laura.weir@parks.ny.gov & melissaann.miller@parks.ny.gov the park office for us to renew your permit.
New Permits – If you have not had a park hunting permit within the last 2 years or would like to obtain one, please complete the hunting permit (PDF provided) and return it to the park office via fax (518-244-5157), email (laura.weir@parks.ny.gov & melissaann.miller@parks.ny.gov) or mail P.O. Box 163, Grafton, NY 12082. Please also include a copy of your current hunting license with the permit and provide contact information for where you'd like the permit returned to you (fax, mail, email). Once we receive it, we will validate it and issue you a new permit.
Any questions please call the park office at 518-279-1155 or email laura.weir@parks.ny.gov & melissaann.miller@parks.ny.gov.
Maps of the hunting area at Cherry Plain State Park are available online and at Grafton Lakes State Park's park office.
Hunters must sign in and out of the park at the office daily when hunting within the boundaries of the park.
Hunting is not permitted within 500 feet of any building, road, playground, or parking lot and all trails are considered safety zones where hunting is not allowed.