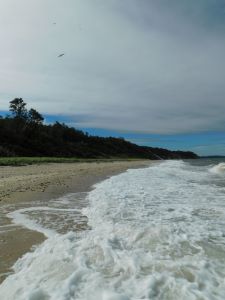 Hallock State Park Preserve offers a total of 225 acres. Hallock State Park Preserve is a shorefront park preserve that offers nearly one mile of pristine beachfront on the North Shore of Long Island along the Long Island Sound.
Hiking, nature walks, and bird watching are available. Development of the remainder of the preserve is in the planning stages and may include formal trails, environmental education, and activities appropriate for a park preserve.
Trail Guide
Print and fold to create a guide for an individual or family walk at Hallock State Preserve. If you cannot print 2-sided, the two sheets can be printed and stabled together, back-to-back, before folding. The markers follow the Yellow Trail, which starts in the northwest corner of the upper parking lot. A park map is also available on this site.
Pet Policy: No pets allowed
Mailing Address
P.O. Box 423 Jamesport, NY 11947
Hours of Operation
4/1/2023 - 10/29/2023 hours are 10:00am - 6:00pm

10/30/2023 - 3/31/2024 hours are 8:00am - 4:00pm




Open Holidays: New Year's Day, MLK Day (January18), Washington's Birthday (February 15), Memorial Day, Independence Day, Labor Day, Columbus Day, Thanksgiving Day, and Christmas Day.
Maps

New! Download this park's digital map to your iOS Apple and Android device.