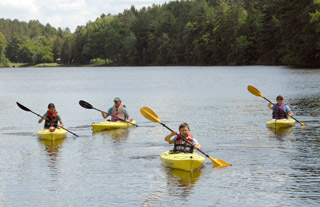 Gilbert Lake State Park's lake and three ponds lie in wooded, hilly terrain in the foothills of the Catskills. In addition to cabins and campsites, the park has more than 12 miles of interconnecting trails for hikers, skiers, snowmobilers and snowshoers. Playgrounds and a disc golf course, as well as swimming, boat rentals, boating (car top/hard bottom boats) and fishing are also featured.
Gilbert Lake is also home to the New York State Civilian Conservation Corps Museum.
New! Thanks to a grant from the Christopher & Dana Reeve Foundation, a Hippocampe Beach/All Terrain wheelchair is now available at Gilbert Lake State Park to access beach and trails.
Pavilion Information
Gilbert Lake has three pavilions. Prices range from $100 to $250 and can accommodate 40 to 200 people. Check availability at ReserveAmerica.com
Current Water Quality - Beach Results.
Pet Policy: A maximum of two pets are allowed in campsites and day use areas unless prohibited by sign or directive. Pets are to be supervised at all times and either be crated or on a leash not more than 6-feet in length. Proof of rabies inoculation shall be produced if requested by staff. Pets are not permitted in playgrounds, buildings, golf courses, boardwalks, pools and spray-grounds or guarded beaches (this does not apply to service animals). Beginning in 2021, NO PETS will be allowed in Cabins 1,10,16,20, 31 and 32.
Hours of Operation
Park is open year-round, from dawn to dusk. Office hours have changed. For assistance, call 607-432-2114.
2020 Swimming Season:




Open 11 a.m. to 7 p.m. Daily until Labor Day. Currently closed until Summer 2021.


Camping/Cabins:




Due to park improvements, ALL cabins are closed for the remainder of the 2020 season. Please contact the park for updates.

Contact Park Office for Camp Ground operational plan information.

Contact Reserve America for 2021 reservation information at: www.reserveamerica.com or 1-800-456-CAMP (2267)




135 Campsites, maximum of 6 people/site.

33 Cabins available; 7-14 day reservation during peak season


Campsites
Hilltop (sites #1-57): 5/22 - 9/6 - Sites 38 and 51-57 Closed for the season
Deer Run (Electric sites #58-89): 6/19 - 9/6 Closed for the season.

(Non electric sites #90-135): 6/19 - 9/6 - Sites 90, 91 and 108 Closed for the season.


Boat Rentals (single, double kayaks and paddle boards):




Boat Rentals Currently Unavailable Until 2021 Season




*Please note that launching is available a short distance from the parking area for personal non-motorized boats.

Shelter Rentals:

Shelter rentals are closed for 2020.

2021 shelter reservations (mid-May to Columbus Day) must be made through www.ReserveAmerica.com or 1-800-456-2267


Briggs Shelter & Kitchen, capacity 60
Large Shelter, capacity 200
Beach Shelter, capacity 40
Fees & Rates
Most New York State Parks charge a vehicle use fee to enter the facility. Fees vary by location and season. A list of entry fees and other park use fees is available below. For fees not listed or to verify information, please contact the park directly.
The easy-to-use Empire Pass card is $80- and your key to all-season enjoyment with unlimited day-use entry at most facilities operated by State Parks and the State Dept. of Environmental Conservation including forests, beaches, trails and more. Purchase online or contact your favorite park for more information. Learn more about our Admission Programs including the Empire Pass.
Beach/Swimming
Included in day use/vehicle entry fee
Boat Rentals
Boat Rentals Are Currently Unavailable Until Summer 2021:




Regular Rates When Available:

Kayaks:
- Single: $10/hour
- Double: $15/hour
Row Boats: $7/hour


Campsites/Cabins
Campsites:
$15-$27/night
*Additional $5/night for out-of-state patrons


Cabins:
Daily rate is 1/4 the weekly charge
Cabins: $406 - $540/week
Additional $28/week for Non-NYS resident patrons
Additional $7/day for Non-NYS resident patrons

Vehicle Entrance Fee
Cars: $7 during swimming season. You may pay with cash/credit or by one of the many NYS Admission Programs.
Non-Commercial Bus Fee: $35/day (Seasonal Bus Permit $75)
Commercial Bus Fee: $75/Day


Maps

New! Download this park's digital map to your iOS Apple and Android device.
Firewood source maps show a 50-mile radius from which untreated firewood may be moved to this campground. For more information see firewood restrictions.
First Day Hike: Gilbert Lake State Park
Friday, January 1, 2021 08:00 AM - 02:00 PM
Gilbert Lake State Park
(607) 432-2114
Friday, January 1, 2021. Gilbert Lake Trail. 8am-2pm. Self-guided.
Masks are required. Meet at Briggs Shelter. Self-guided and easy hike, approximately 1 mile long. No fee to attend. Leashed pets allowed.