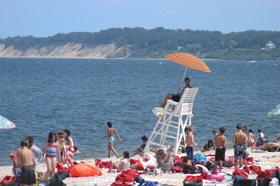 To receive the Nature Program Schedule directly to your email, sign up for our electronic mailing list here!
Offering one of the most stunning views of the Long Island Sound with Connecticut in the distance, Sunken Meadow State Park has a wide range of topography that sustains a variety of flora and fauna. Three lovely bridges stretch over Sunken Meadow Creek as it runs from the interior of the park to tidal flats at the mouth of the Nissequogue river. South of the flats are acres of undeveloped and heavily wooded rolling hills.
Among the most popular picnic parks on Long Island, Sunken Meadow hosts millions of people each year partaking of family and group outings. Pick-up sports are enjoyed on the ball fields and several informal open lawn areas. Swimming here is truly family-oriented in the generally calm waters of the Sound. Many people enjoy the health benefits of measured walks along the ¾ mile boardwalk. Cross country running events are held over the hilly running course. The park is the northern terminus of the Long Island Greenbelt trail for hiking.
From Field 3 at the eastern portion of park, launching is available for windsurfing, kayaking, stand-up paddle boarding, and canoeing.
27 holes of golf at Governor Alfred E. Smith Sunken Meadow State Park
Golf course architect Alfred H. Tull (1897-1982) designed what are today the Red and Green Courses in 1964. Tull, who designed the Yellow Course and redesigned the Blue Course at Bethpage State Park in the 1950s, was noted for laying out golf courses without consulting topographical maps. Only after his routing of the course was complete did he overlay his plan on topographical maps. The result seems to be golf courses which make maximum use of the existing terrain. In the case of Sunken Meadow State Park that terrain is somewhat hilly and variable, surrounded by mature woodlands; resulting in an attractive and relaxing outdoor experience for golfers. The view of the Long Island Sound from the golf driving range is stunning in its beauty.
The use of motorized golf carts was introduced in 1997. Today, in the hierarchy of state park golf courses in the region, the Sunken Meadow courses are intended to serve golfers of a moderate skill level. While maintenance and operation of the golf facilities is kept at an excellent level, they are not maintained at championship level. The courses provide an enjoyable outing with moderate challenges, but not punishing for those who make errant shots.
Find more about park permit information.
Pavilion Information
Sunken Meadow has one pavilion. The day use price is $200 to $250 and can accommodate up to 200 people. Check availability at ReserveAmerica.com. Find out more on picnic pavilion reservations and view photos of Sunken Meadow's pavilion.
For information on educational opportunities and programs in Long Island State Parks, please visit Long Island Environmental Interpretive Center.
Current Water Quality - Beach Results
Pet Policy: Pets are allowed in back trails only. Pets are to be supervised at all times and either be crated or on a leash not more than 6-feet in length. Proof of rabies inoculation shall be produced if requested by staff. Pets are not permitted in playgrounds, buildings, golf courses, boardwalks, pools and spray-grounds or guarded beaches (this does not apply to service animals).
Fees & Rates
Most New York State Parks charge a vehicle use fee to enter the facility. Fees vary by location and season. A list of entry fees and other park use fees is available below. For fees not listed or to verify information, please contact the park directly.
The easy-to-use Empire Pass card is $80- and your key to all-season enjoyment with unlimited day-use entry at most facilities operated by State Parks and the State Dept. of Environmental Conservation including forests, beaches, trails and more. Purchase online or contact your favorite park for more information. Learn more about our Admission Programs including the Empire Pass.
VUF/Parking Fee (per car)

4/2/22 - 5/27/22: 8am-4:00pm, weekends and holidays - $8/car

5/28/22 - 9/11/22: 7am - 6:00pm weekends and holidays; 8am-4:00pm weekdays - $10/car.

9/12/22 - 11/6/22: 8am-4:00pm, weekends & holidays - $8/car

Non-Profit Buses: $35 (By permit only)
Commercial Buses: $75
Unscheduled buses: $75

*VUF not charged for golf patrons. Driver pays for $10 of greens fee at tolls.

Golf
For all golf-related fees, please visit Governor Alfred E. Smith/Sunken Meadow State Park Golf Course's site.
Permits
4 Wheel Drive Beach Vehicle Fishing Permit:
NYS Driver's License $80
Out of State Driver's License $125

Metal Detecting:
$40 Annual Fee

Night Sport Fishing Permit:
NYS Driver's License $35
Out of State Driver's License $60
7 Night Sport Fishing Permit $25
Permits sold at Babylon Headquarters and at the Park office.

Star Gazing Permit:
NYS Driver's License $35
Out of State Driver's License $60