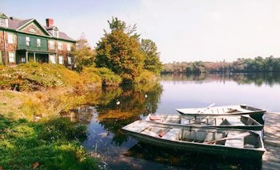 To receive the Nature Program Schedule directly to your email, sign up for our electronic mailing list here!
Connetquot River State Park Preserve maintains 3,473 acres of land and water for the protection and propagation of game birds, fish and animals. Deer and waterfowl are numerous, rare nesting birds, including the osprey, are present and there are numerous rare plants, and other interesting flora, such as trailing arbutus and pink lady's slipper in their natural habitats. The preserve also has 50 miles of hiking, bridle, cross-country ski and nature trails, as well as freshwater fly fishing (by permit only) on the Connetquot River.
For Schools: Environmental Education Programs
Youth Programs available
The Long Island Environmental Interpretive Center is home to the Regional Environmental Education Team of environmental educators. Schools, youth organizations and special interest groups can make arrangements for interpretive programs and hikes at any of the State Parks on Long Island by calling this office. In addition to group hikes there are Fun for Kids Activities, Family Adventure Programs and Adult Ed-ventures for the general public run at several State Parks.
Designated as the first "State Park Preserve" in New York, Connetquot River encourages the long-term protection of our ecological, cultural and historic resources. Passive activities include: hiking, birding and nature study.
Prohibited Activities: Please note that as a nature preserve, bicycling, picnicking and pets are not permitted.

Hours of Operation
Open Tuesdays - Sundays, 8AM till 4PMk. Closed Mondays
Environmental Programs closed Mondays year-round.
Tiny Tots program held every other Tuesday.
4/1 - 9/30
10/1 - 3/31 - Environmental program closed Mondays & Tuesdays.
Long Island Environmental Interpretive Center: Programs conducted year-round, Wednesdays through Sundays.

Fly Fishing Season: Open Year Round (Session Times: 8am - 12 pm, 12pm - 4 pm, additional session 4pm-sunset April-September, Tuesdays through Sundays)
Trout Fishing: valid NYS freshwater fishing license required.

Fly Fishing Group Outing Program: Upon request only.

Horse Trailer Parking: Available all year. 8 am - 4 pm.
Cross Country Skiing: Available in the winter season when conditions permit.
South Side Sportsmen's Club Historic House Tours:

Step back in time as you tour the Main House of the South Side Sportsmen's Club. A docent will discuss the history of the tavern, the land, buildings, and members of the high society Sportsmen's Club's, and how it came to be Connetquot River State Park Preserve.

First and Third Sunday of Each Month

Each tour is about 45 minutes long. 1:00 - 2:00 pm. No reservations are required for this program. For more information please call 631-581-1072.
Fees & Rates
Most New York State Parks charge a vehicle use fee to enter the facility. Fees vary by location and season. A list of entry fees and other park use fees is available below. For fees not listed or to verify information, please contact the park directly.
The easy-to-use Empire Pass card is $80- and your key to all-season enjoyment with unlimited day-use entry at most facilities operated by State Parks and the State Dept. of Environmental Conservation including forests, beaches, trails and more. Purchase online or contact your favorite park for more information. Learn more about our Admission Programs including the Empire Pass.
Vehicle Entrance Fee

Cars $8

Fee Collected:

4/3/21 to 5/30/21 Weekends Only

Memorial day 5/31 to Columbus Day (10/11/21): Daily, 8:00 am - 6:00 pm

10/16/21 to 11/21/21: Weekends Only, 8:00 am - 4:00 pm


Bus Vehicle Entrance Fee:

Non-Profit Buses (By permit only) $35
Commercial Buses (By permit only) $75

Environmental Interpretive Programs
$4 per adult
$4 per child (3-17 yrs.)

Fly Fishing
$25 per 4 hour session

Fly Fishing: Group Outing Program:
$25 per person (4hr session)
Horseback Riding
$50 yearly permit & $10 day riding permit
House Tours
$4 per adult
$4 per child
Maps

New! Download this park's digital map to your iOS Apple and Android device.