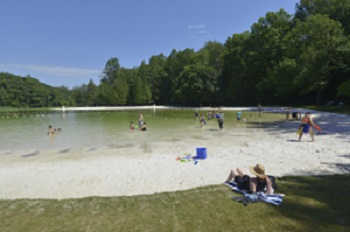 Chenango Valley State Park is an ice age wonder. Its two kettle lakes, Lily and Chenango, were created when the last glacier retreated and left behind huge chunks of buried ice which melted to form the lakes and bog. Birdwatchers may glimpse woodpeckers, nut hatches, warblers and thrushes along woodland trails and herons, ducks and kingfishers lakeside. Fishermen will find trout, bass, perch and bullhead in Chenango Lake. Campers can choose from among 184 campsites and 24 cabins and golfers will appreciate the 18-hole Chenango Valley State Park Golf Course (pro shop can be reached by calling: 607-648-9700). Sledding and cross-country ski trails attract visitors in winter.
Pavilion Information
Chenango Valley has three pavilions. Prices range from $75 to $450 and can accommodate 50 to 800 people. Check availability at ReserveAmerica.com
Current Water Quality - Beach Results.
Pet Policy: A maximum of two pets are allowed in campsites and day use areas unless prohibited by sign or directive. Pets are to be supervised at all times and either be crated or on a leash not more than 6-feet in length. Proof of rabies inoculation shall be produced if requested by staff. Pets are not permitted in playgrounds, buildings, golf courses, boardwalks, pools and spray-grounds or guarded beaches (this does not apply to service animals).
Hours of Operation
GPS ALERT: Some GPS units will direct you to the Rogers Road entrance. The gate at that entrance is closed in spring, summer and fall months. Please use the main entrance off NY Route 369.
Hours: Open year-round, from sunrise to sunset for day use.




Winter Activities: Skating is allowed on the shallow areas of lake, ice conditions permitting. Sledding available and a fire ring and wood is provided for patrons to stay warm while sledding. Open conditions permitting. Cross country skiing and snow shoeing is also available. Approximately 20 pairs of snow shoes are available for use free of charge, but must be reserved in advance by calling the park office.

Park Office Hours vary by season. Please call for details.
Memorial Day through Labor Day:
Sunday - Thursday, 8 a.m. - 8 p.m.
Friday - Saturday, 8 a.m. - 9 p.m.
Off Season:
8:30 a.m. - 5:00 p.m. (Closed Weekends)
Boathouse:

Due to short staffing, the Boathouse will be closed until Labor Day Weekend

*Please note that launching is available a short distance from the parking area for personal non-motorized boats, when available.

Normal Season: April 15th to September 15th. No vessels permitted on lake before or after these dates.

Car top boats/kayaks/canoes only - no trailers of gas-powered motorized boats allowed.

Camping 2022

Campsites - 184 campsites, maximum of 6 people/site.
Campsites & cabins: Reserve through Reserve America: 800-456-2267.
Camping Season: 5/20/22 - 10/9/22

Campsites: Pine Bluff & Sunrise, Chipmunk Loop 4: 5/20/2022-9/4/2022

Chipmunk Loop 1,2 &3: 5/20/22 - 10/9/22

Cabins 1 - 19: 5/20/22 - 10/9/22
Cabins 21 - 25: 5/20/22 - Labor Day.

2022 Swimming Season:


Open 5/28/22 through Memorial Day. Weekends only until 6/18/2022. Open seven days a week 6/18/2022-9/5/2022.

Golf: Course is open through November 7 (weather permitting).

Please call pro shop at (607) 648-9700 for hours of operation.

Shelter Rentals: $7.25 Reservation Fee
Rentals available from May 7 through October (weather permitting). All rental times are 9 a.m. to sunset. Call park with any inquiries.


Pine Grove Pavilion, capacity 80
Tween Lake Pavilion, capacity 50
Pine Plains Pavilion, capacity 800
Pine Room, capacity 49
Great Hall, capacity 99

* Shelter rentals do not include vehicle entrance fee
Fees & Rates
Most New York State Parks charge a vehicle use fee to enter the facility. Fees vary by location and season. A list of entry fees and other park use fees is available below. For fees not listed or to verify information, please contact the park directly.
The easy-to-use Empire Pass card is $80- and your key to all-season enjoyment with unlimited day-use entry at most facilities operated by State Parks and the State Dept. of Environmental Conservation including forests, beaches, trails and more. Purchase online or contact your favorite park for more information. Learn more about our Admission Programs including the Empire Pass.
Vehicle Use Fee
Cars:  $7
Non-Commercial Bus Fee:  $35
Commercial Bus Fee:  $75
Seasonal Bus Permit:  $75
Boat Rentals
Rentals are unavailable until Labor Day Weekend




When Available, Rates Are:

Rowboats: $7/hour, $20/day,

Kayaks: $10/hour; $40/day

Stand-up Paddleboards: $10/hour; $40/day

$25 cash deposit required

Camping
Campsites:
$15-28 per night
Reservation Fee: $7.25

Walk-in registration Fee: $1.25
*Additional $5/night for non-NYS residents

Cabins:
Daily Rate: $108.50 - $122.50 per night
Weekly Rate: $434.00 - $490.00 per week

Weekly rentals ONLY from the 4th weekend in June until 8/27.
Nightly Rental with 2 night minimum: Mid May to 4th weekend in June and Labor Day to Columbus Day.

Additional $7/day for non-NYS residents
Additional $28/week for non-NYS residents

Golf




9 Holes, Weekdays: $15

9 Holes, W/E and Holidays: $16

18 Holes, Weekdays: $22

18 Holes, WE/Holidays: $25

Jr/Sr, 9 Holes: $10*

Jr/Sr, 18 Holes: $15*

*Apply on weekdays and after 1 pm on weekends

Senior rates apply to NYS residents 62 and older

Junior rates

apply to 17 and under

Twilight (after 6pm), 18 Holes: $12*

*During June, July, August, No Carts Available for Twilight Rounds.

Gas carts - 9 holes: $13/single rider; 18 holes: $19/single rider

Club Rentals Available



Room Rental
Rented All Year Around




Great Hall $175 - Please contact park office for details.   Not heated.




Pine Room $125 - Please contact park office for details.
Maps

New! Download this park's digital map to your iOS Apple and Android device.
Firewood source maps show a 50-mile radius from which untreated firewood may be moved to this campground. For more information see firewood restrictions.
First Day Hike
Sunday, January 1, 2023 01:00 PM
Chenango Valley State Park
Come join us for an afternoon of hiking! We'll be offering two hikes of varying difficulty and distance. Our first hike will be a shorter walk of approx. 2-3 miles. It will take you through some of our easier trails and we'll talk about the park and its history along the way. The second hike will be a bit longer, covering approx. 4 miles and will take you on some more difficult trails. Nothing too serious, but the hills may get your heart pumping a bit more. You may even break a sweat. We'll have everyone meet at the large stone building near our beach parking area, where we'll have some drinks and snacks to get you fueled up before the hikes. Any questions, please call 607-648-5251 for more information. we will provide some drinks/snacks, but bring your own if you would like something specific. Hike will take place in any weather conditions.