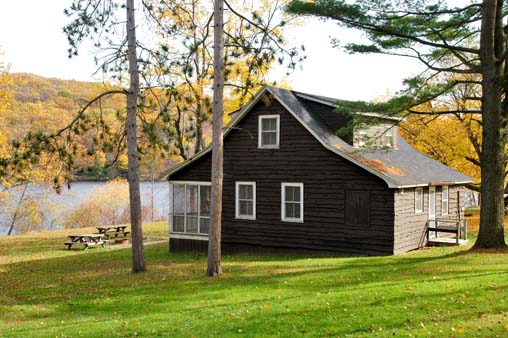 Lake Taghkanic State Park, nestled next to Lake Taghkanic in the rolling hills and lush forests of Columbia County, offers a wonderful variety of recreational activities. The park has tent and trailer campsites and cabin and cottage lodging facilities. Large trucks, RVs and campers can enter from the Route 82 entrance. The park also features a swimming beach, picnic areas, boat launch sites, rowboat, paddleboat and kayak rentals, playgrounds, sports playing fields, a rentable pavilion, as well as a recreation hall and showers. In addition, the park has hiking, biking, swimming, fishing, hunting, cross-country ski and snowmobile trails. Ice skating and ice fishing are permitted when conditions are appropriate. Please call the park office at (518) 851-3631 to check ice thickness.

There are four Vacation Rental Cottages that have the amenities of home. The units are outfitted with a bathroom with toilet and shower, a kitchen with hot and cold running water, refrigerator, stove, microwave, cooking and eating utensils, enclosed/screened-in back porch facing the water, a picnic table and fire ring. Lake Taghkanic accepts Camping Gift Cards from Reserve America. The Camping and Cabins Information & Rates brochure provides prices and locations on campgrounds, cabins and cottages as well as how to reserve on Reserve America.
Pavilion Information
Lake Taghkanic has one pavilion. The day use price is $75 and can accommodate up to 60 people. Check availability at ReserveAmerica.com.

Lake Taghkanic State Park Brochure
Tentrr Camping: Furnished Canvas Wall Tents
Tentrr is now at Lake Taghkanic State Park. Take the hassle out of camping and spend more time enjoying the outdoors. With a fully-equipped canvas wall tent all set up and ready for you, it really is a better way to camp.
Four Tentrr sites, including one triple site, one double site and two single sites, will be located at different points around the lake, all within close proximity to the swimming beach.
Please visit the Tentrr website for additional information about camping in Lake Taghkanic State Park with Tentrr, or to check availability and make reservations.

Don't miss these attractions within the park
Boat Shop-rent boats, paddleboats and/or kayaks
Playgrounds-playground areas are located on both the west and east sides of the lake!
Snack/Souvenir Shop-great summer fare for hungry swimmers! Select merchandise for sale.
Campground Store-buy camping supplies, like ice, snacks and firewood or souvenirs, such as T-shirts.
Picnic Pavilion-located in parking lot E, close to the lake. The pavilion can be rented out for $75/day.
Don't miss these popular State Parks and Historic Sites within a 45 minute drive of the park:
Current Water Quality - Beach Results
Pet Policy: A maximum of two pets are allowed in campsites and day use areas unless prohibited by sign or directive. Pets are not permitted in the West Beach area or the picnic areas adjacent to the West Beach. Pets are to be supervised at all times and either be crated or on a leash not more than 6-feet in length. Proof of rabies inoculation shall be produced if requested by staff. Pets are not permitted in playgrounds, buildings (including Cabins and Cottages), golf courses, boardwalks, pools and spray-grounds or guarded beaches (this does not apply to service animals).
Hours of Operation
The park is open year round:
Memorial Day weekend through Labor Day: 8 am to sunset.
Labor Day through Memorial Day: Sunrise to sunset.

2023 Swimming Season
West Beach (East Beach is closed)
5/27 - 6/18: 10 am - 7 pm, weekends only and Memorial Day (5/29)
6/24 - 9/4: 10 am - 6 pm, Monday - Friday; 10 am - 7 pm, weekends/holidays

2023 Camping Season: 5/19 - 10/21

Campsites, cabins & cottages. Reservations made through Reserve America - call 1-800-456-CAMP.
Hunting: Seasonal/DEC rules and regulations apply. Large game; turkey - bow only.

Boat Permits: Weekly and season permits are available;


Boat storage also available.
Fees & Rates
Most New York State Parks charge a vehicle use fee to enter the facility. Fees vary by location and season. A list of entry fees and other park use fees is available below. For fees not listed or to verify information, please contact the park directly.
The easy-to-use Empire Pass card is $80- and your key to all-season enjoyment with unlimited day-use entry at most facilities operated by State Parks and the State Dept. of Environmental Conservation including forests, beaches, trails and more. Purchase online or contact your favorite park for more information. Learn more about our Admission Programs including the Empire Pass.
Vehicle Entrance Fee
$10

Collected:
5/28 - 6/19, weekends & holidays
6/25 - 9/5, daily
Camping
Campsites:
$15-$22/night

Raised Deck Platform Campsite (14'x16'):
$18/night; Sun - Thurs.
$22/night; Fri, Sat & Sun/Holiday

Trailers/RVs (up to 20'):
$15/night Sun - Thurs
$19/night Fri, Sat & Sun/Holiday
$10/night Additional Vehicles (more than 2 at a site)

Cabins:
Daily rate is 1/4 the weekly charge
$412-$700, weekly

Cottages:
$110 - $157.00/night; $440-$630/week

Full-Service Cottages:
Cottage 157 and 167: $180/night; $720/week
Cottage 171: $190/night; $750/week
Cottage 158: $195/night; $780/week

Camping Fees:
$7.25 Reservation fee
$1.25 Walkup Fee
$7.25 Cancellation/Change

Non-NYS Resident Surcharge:
Camping: $5 per night
Cabins: $7 per night/$28 per week
Boating
Permit Fees: $30/season; $10/week
Boat Storage: $15/season
Non-NYS Resident Surcharge
Camping: $5 per night
Cabins: $7 per night/$28 per week
Tentrr Camping: Furnished Canvas Wall Tents
For up-to-date pricing, availability, and to make camping reservations, please visit the Tentrr website.
Maps

New! Download this park's digital map to your iOS Apple and Android device.
Firewood source maps show a 50-mile radius from which untreated firewood may be moved to this campground. For more information see firewood restrictions.
In the years 1928-29 the Taconic State Park Commission considered the suitability of Lake Charlotte for park purposes. This lake was given to the Commission together with some uplands by D. McRa Livingston providing the lake be renamed Taghkanic. In 1933, with the advent of the Civilian Conservation Corps (CCC), a camp was established and with the appointment of capable carpenters and masons to oversee the work, members of the CCC built the East Beach bathhouse, the beach, camping and cabin area and the water tower.
Today, the East Beach is not in operation, however the West Beach, with fully equipped bathing facility, secluded picnic areas, informal game areas, and boat rentals for paddling, rowing or fishing, round out a day's stay at Lake Taghkanic State Park.
Hunting is permitted in the park by means of bow and arrow only. No firearms are allowed. Park permit is required.
Mid-Hudson Astronomical Association
Friday, December 8, 2023 04:30 PM
Lake Taghkanic State Park
The Mid-Hudson Astronomical Association hosts a monthly stargazing party in the West Beach parking lot. Bring your own telescopes and binoculars or use those provided by our members. You will be asked to provide your license plate number and make/model car, so Park Management and Police have a record of who will be in park after hours. More info at
https://www.meetup.com/mhastro/events/275468188/
Registration: RSVP is required at least one day beforehand.
Additional Documents