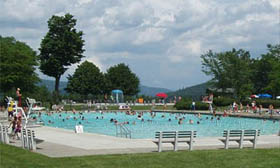 Cascading 80 feet through a narrow gorge is the picturesque Mine Kill Falls for which the park is named. A separate parking area, 1/4 miles south of the parks' main entrance, provides access to the overlook viewing platforms, as well as the Long Path hiking trail to the lower falls and beyond.
The boat launch on the Blenheim-Gilboa Reservoir is open daily, April 1 to October 15. Boaters are required to clean their boat using the park's hot water boat wash station before launching any vessel on the reservoir and sign in at the park office or boat wash station. For more information, please contact the Park Office.
SPRING /SUMMER: Mine Kill State Park has an Olympic size pool, wading pool and a diving pool available at no cost to anyone. Swim lessons are taught in the summer months-please contact the park office for details. Other warm weather activities include hiking and mountain biking on the parks 8 miles of trails. The park also hosts sessions of several Soccer Camps in its regulation sized athletic fields. League play is also welcome.
FALL: Bow hunting for deer is allowed by permit only. Hunting permits are issued by the New York Power Authority via a lottery system. Please call the Power Authority Visitor Center at 518-827-6121 for more details.
WINTER: In winter, visitors enjoy Ice skating, tubing/sledding, snowshoeing, cross-country skiing and snowmobiling. Rentals of skates, shoes, sleds and tubes are available at the office during business hours.
Pavilion Information
Mine Kill has four pavilions/tents that can accommodate 45 to 100 people. Please contact the Park Office to check availability or to reserve.
Have you ever played disc golf?
If not, come out to Mine Kill State Park to learn all about this incredibly popular sport!(Year Round) Disc golf is very similar to traditional golf, with each player starting from a tee area in order to reach a target in the fewest strokes possible. However, disc golfers use a variety of plastic discs instead of a ball and clubs and try to get the disc to land in an elevated metal basket. Both driving and putting discs may be rented at the Mine Kill Park Office, or at the entrance to the pool (summer) for $1 per disc. A variety of discs, golf bags, towels and other great gear may be purchased at the Park Office or at the entrance to the pool (summer). The first hole begins next to the pool parking area in the open ball field. Please sign the register at the information kiosk and pick up a scorecard for whichever layout you decide to play.
Pet Policy: A maximum of two pets are allowed in day use areas unless prohibited by sign or directive. Pets are to be supervised at all times and either be crated or on a leash not more than 6-feet in length. Proof of rabies inoculation shall be produced if requested by staff. Pets are not permitted in playgrounds, buildings, golf courses, boardwalks, pools and spray-grounds or guarded beaches (this does not apply to service animals).
Mailing Address
PO Box 923 North Blenheim, NY 12122
Hours of Operation
Park is open year-round, dawn to dusk

Office hours are 8:00 am - 4:00 pm

2023 Swimming Season: 6/24 - 9/4, 10:00 am - 6:00 pm, daily

Swim Lessons (Free):
202 Swim lesson season: June 26th to August 17th, 10am to 6pm, Monday thru Thursdays

Contact the Park Office after June 1st for scheduling.

Session 1: 6/26-7/20

Session 2: 7/24-8/17

Disc Golf: Year Round (weather permitting)

Disc rentals available - $1/disc
Mine Kills Falls: Open year-round: Dawn to Dusk, weather permitting
Picnicking: Available year round (weather permitting)
Boating: April 1-October 15. All boaters must sign-in and clean their vessels at the Boat Wash Station.
Fees & Rates
Most New York State Parks charge a vehicle use fee to enter the facility. Fees vary by location and season. A list of entry fees and other park use fees is available below. For fees not listed or to verify information, please contact the park directly.
The easy-to-use Empire Pass card is $80- and your key to all-season enjoyment with unlimited day-use entry at most facilities operated by State Parks and the State Dept. of Environmental Conservation including forests, beaches, trails and more. Purchase online or contact your favorite park for more information. Learn more about our Admission Programs including the Empire Pass.
Vehicle Entrance Fee
No fee (courtesy of the New York Power Authority)
Disc Golf
$1 disc rentals

Athletic Equipment

Varies $1-$5 to rent

Kayaking

Kayak rentals available during the summer months. Call the Park Office or to make a reservation.

$5/hour solo kayak rentals; $7/hour tandem kayak rentals

Winter Sports

Ice Skating (winter) Sledding (winter) Snow Shoes (winter) Free to borrow.
Maps

New! Download this park's digital map to your iOS Apple and Android device.
Highlights of Mine Kill State Park:
Mine Kill State Park is the namesake of Mine Kill Falls, the signature, 80-foot terraced waterfall that regularly mesmerizes visitors to the park. Mine Kill Falls features a scenic hiking trail (part of the Long Path) from the parking lot down to its base. In addition, visitors get to enjoy a bird's eye view of the waterway along the platforms near the top of the trail.
Hikers will thoroughly enjoy Mine Kill's 8 miles of trails, including to a 5-mile segment of the Long Path, a 350-mile long, marked foot path that runs from the George Washington Bridge in Fort Lee, NJ, to the John Boyd Thacher State Park west of Albany, NY. The Long Path links together several state, county and town parks on its journey along the Hudson, through the Catskills and toward the Adirondacks.
Mine Kill is home to a wide variety of creatures, and that is thanks to its habitat diversity. Watch the forest change as you hike from towering stands of hemlock to lush floodplain forest filled with sycamore and birch. These trees serve as apartment complexes for all sorts of wildlife, including woodpeckers, bluebirds, bees, and more! Animals like to make their homes in rocky dens as well, and there are a few rock ledges and caves lurking around the park. On the other hand, there are plenty of wide open fields for birds, mice, bees, and butterflies to sift through, catching bugs, picking up pollen from our wildflowers, and munching on some grass. The park also features pristine grassland habitat, constantly-changing wetlands, and the Blenheim-Gilboa Reservoir, which is home to various native fish in addition to the walleye and trout it's stocked with annually. Keep your eyes open when you're walking around and think of what critters could call the area you're walking through home!
Thanks to it's the diversity of its habitats, Mine Kill is home to a wide array of creatures. From native bees to migratory birds to black bears, there's something to see for every type of nature enthusiast. While you're out hiking the trails, make sure to stop and listen for the various sounds of the wild. Some common sounds are chipmunks rustling through the forest floor, bluebirds chattering across open grasslands, bald eagles conversating, pileated woodpeckers cackling, and occasionally the hooting of a barred owl.
Look and listen for these birds at our Park:
Mine Kill State Park is a designated stop on the
New York State Birding Trail
. Mine Kill's Bird Watcher's Checklist is available
here
.
Everyone is a Steward: Be a Mine Kill State Park Hero!
Know the rules and concerns for the area you'll be visiting.
Leave rocks, plants and other natural objects as you find them.
Let nature's sounds prevail. Avoid loud voices and noises.
Respect other visitors and protect the quality of their experience. Be courteous. Yield to other users on the trail.
Observe wildlife from a distance. Do not follow or approach them. Never feed animals. Feeding wildlife damages their health, alters natural behaviors, and exposes them to predators and other dangers.
Use extra caution when using headphones. You may not be able to hear warnings.
Don't litter.
For more information, please read our
Trail Tips!
Ask a Naturalist!
Q: What is emerald ash borer?
A:
Emerald ash borer (EAB) is an invasive wood-boring beetle native to Eastern Asia that was first identified in Canton, Michigan in 2002. As the name suggests, EAB feeds on ash trees, and while the ash trees that grow in its native range have evolved to tolerate it, North American ashes lack the natural defenses to keep the pest in check. This has allowed EAB to spread across the Eastern United States from Georgia to Quebec, Canada in the short time since its arrival, killing innumerable white, green, and black ash trees in its wake. EAB was first found in Mine Kill State Park in 2020, and we've since taken several measures to minimize its impact on our ash trees including biocontrol and selective cutting of infested ash trees.
Q: What's so special about the fossils around here?
A
: Mine Kill State park, as well as several other sites in Southern Schoharie County and Greene County, contains fossils of Earth's earliest forests! These fossils date back 390 million years to the late Devonian era, when the area that's now the Schoharie valley was a massive river delta that poured into the Catskill Sea, an inland sea that covered most of what's now the Eastern United States. The banks of the delta provided the perfect conditions for Devonian plants to grow to tree-like proportions. Meanwhile, brachiopods, clams, and crinoids formed thick beds of aquatic life in the shallow waters of the delta. 390 million years later, these ancient organisms have remained in the Schoharie Valley, preserved indefinitely as fossils. If you want to see some for yourself, head to the base of Mine Kill Falls and look closely at the rocks there. If you're not having any luck finding your own, stop by our Nature Center and look at some of the fossils we have on display, or check out the Gilboa Fossil Museum 10 minutes south of the park!
Did You Know?
- DID YOU KNOW? Mine Kill State Park is a stop on the Schoharie County Eagle Trail! The best place to look for our national bird is the park's boat launch on the Blenheim-Gilboa Reservoir, which the eagles think we stock with trout and walleye just for them.
- DID YOU KNOW? The Schoharie Valley was completely filled with water 15,000 years ago. During the most recent ice age, glaciers dammed up the Schoharie Creek near modern-day Middleburgh NY, filling the entire Schoharie Valley below with water. During this period, Mine Kill State Park would have been almost completely underwater and Vroman's Nose would have been a small island just 20 feet above the surface!
The Education team at Mine Kill offers a number of different programs and activities for all ages completely FREE of charge! Programs can be done at the park or we can come to your classroom! The lessons listed below are just a few of the programs we can offer for your classes. Contact us today to schedule your private program!
Planting for Pollinators
In this program, students will learn about the process of pollination, what is and isn't a pollinator, and why they're important. First, students will break into groups to find pollinators in the wild. Each group will then have the opportunity to share their findings, discuss different kinds of pollinators, and why they're important. After the discussion, the students will pot up and take home their own native wildflowers to help pollinators in their own backyard.
Tree Life Cycle and ID
Students will take a tour of the park's biggest trees while discussing their biology and importance with our educators. Along the way, students will learn to identify several species commonly found in New York, how to estimate a tree's age by counting it's rings, and make sun prints of leaves to take home.
Wetland Ecology
Educators will show students how to catch invertebrates in a freshwater stream before allowing students to try it themselves. All living things found are collected in plastic bins and organized into smaller containers for examination. Our educators will then identify the invertebrates caught by the students along with them by guiding them through an identification key. At the end, we will discuss freshwater ecosystems as a whole and how looking at the invertebrate diversity in them can paint a picture of the health of the ecosystem.
Who's Hoo?
Each student receives an owl pellet, gloves, and tweezers to carefully dissect the owl pellet and examine the remains of the various creatures that make up an owl's diet. Educators will demonstrate how an owl eats to better explain the student's findings.
Forest Signs of Climate Change
Through several interactive activities, we will cover climate change related topics like the greenhouse effect, the carbon cycle, and extreme weather patterns. All of these concepts will then come together for a hike through the woods to look for all of the ways that climate change is currently affecting our forests. This program is intended for students in 6th grade and up.
Please contact our Environmental Education Team at Mine Kill State Park at 518-827-8685 or
minekillsp@parks.ny.gov
for more information or to book your education program today!
Bow hunting for deer is permitted at Mine Kill State Park. Mine Kill's hunting program is administered by the New York Power Authority. NYPA issues a maximum of 100 permits to licensed bow hunters who have completed the shooting competency portion of the bow hunter education process.
At Mine Kill, hunters can hunt outside of the developed park grounds and on acres of NYPA managed property; hunters must park in designated parking areas - described in detail to hunters when they receive their permit from NYPA. To inquire about getting a bow hunting permit, please contact the New York Power Authority at the Blenheim-Gilboa Visitors Center by calling: 1-800-724-0309.
First Day Hike
Monday, January 1, 2024 09:00 AM
Mine Kill State Park
Explore the open grasslands and deep forests of Mine Kill State Park, and maybe catch a glimpse of a bald eagle by the Blenheim-Gilboa Reservoir. Please dress appropriately for the weather. Dogs must be on no more than a 6' leash. Light refreshments will be provided at the park office but bring your own water and snacks for the hike. Meet at Park Office.