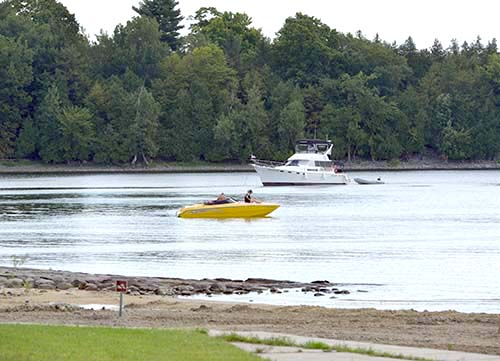 Point Au Roche State Park, on the northwestern shore of Lake Champlain, is a mixture of open and forested areas, most of them natural and undeveloped. The park's large day-use area has a protected, sandy beach and picnic facilities. Boating and fishing are popular activities, as are volleyball, softball and other games. The park offers 60 designated mooring sites in Deep Bay. The Nature Center offers a variety of programs; and, is available to the public all year. The park's trails, including nature, hiking and biking trails, wind through interesting habitats, from forest to marsh to shoreline. The trails are in use all year for school programs, nature hikes and cross-country skiing. The park also provides access for ice fishing.
Pavilion Information
Point Au Roche has two pavilions. The day use price is $75 and can accommodate up to 50 people. Check availability at ReserveAmerica.com.
Current Water Quality - Beach Results
Pet Policy: A maximum of two pets are allowed in campsites and day use areas unless prohibited by sign or directive. Pets are to be supervised at all times and either be crated or on a leash not more than 6-feet in length. Proof of rabies inoculation shall be produced if requested by staff. Pets are not permitted in playgrounds, buildings, golf courses, boardwalks, pools and spray-grounds or guarded beaches (this does not apply to service animals).
Fees & Rates
Most New York State Parks charge a vehicle use fee to enter the facility. Fees vary by location and season. A list of entry fees and other park use fees is available below. For fees not listed or to verify information, please contact the park directly.
The easy-to-use Empire Pass card is $80- and your key to all-season enjoyment with unlimited day-use entry at most facilities operated by State Parks and the State Dept. of Environmental Conservation including forests, beaches, trails and more. Purchase online or contact your favorite park for more information. Learn more about our Admission Programs including the Empire Pass.
Moorings

The mooring fee is charged to any boat hooked to one of the mooring lines. It should not be mistaken for an overnight fee. Any boaters who refuse to pay, will be asked to unhook from the mooring line. When multiple boats are hooked to one single line, the boaters, will be asked to separate.

Morring Fees

Mooring Usage Fee $17

Surcharges:
Weekend/Hol $4 (The weekend fee is charged on Friday and Saturday evenings (or) Saturday and Sunday mornings.)

Out-of-State $5

Vehicle Entry Fee
Toll Booth Hours:

5/27-9/5
10AM-7PM (Beach $7, Non-Beach $6)

Bus Use (Daily)
Commercial $75
Non Profit $35



Kayak/Canoe Storage Rack Rental
Daily Rental: 1 boat $10/day 2 boats $15/day "boats must be removed by sunset"

Weekly Rental: 1 boat $25/week 2 boats 40/week "7 day/6nights- boats must be removed by 11am on 7th day"

Seasonal Rental: 1 boat $100/year 2 boats 150/year "April 1st -October 31st"




*Racks are first come/first serve. For more information, please contact park office at 1 (518) 563-0369



Maps

New! Download this park's digital map to your iOS Apple and Android device.