What does the Boater Education Law mean to New Yorkers? Those born on or after May 1, 1996 will need to complete an approved course in order to operate a mechanically propelled boat. For those born before that date, no course is required. All operators of a personal watercraft (PWC) will continue to need to complete a course, and be at least 14 years of age.
What courses are acceptable? Can I take an on-line course? The New York State Safe Boating Certification Course is now available as an in-classroom course or through the following online providers. Choose the method that best fits your schedule, style and needs. Both options are approved by the New York State Office of Parks and result in certificates that never expire. Please note that some courses charge a fee.
I just bought a boat; will I need a course immediately? No. You would have 120 days in which to complete a course if you are required to have a certificate.
Will I need a course in order to rent a motorboat in New York? No. If you are at least 18 years old, you may rent without completing a course. The livery should demonstrate how to properly use the boat before renting it however. Persons under the age of 18 may only rent a motorboat if they hold a safety certificate.
How do I find courses? Select the link below. This will bring you to the master list of all publicly offered New York Safe Boating Courses. If there are no courses in your area, check back often; the course list is updated every Friday. Courses are most often available during the beginning of the year, January - April.
Boating Safety Course Availability
How do I find out if there is a fee for the class? You must call the instructor contact number listed on the web site to register for your course. At that time you should ask the contact if there is a fee for that course. You should also inquire about the number of sessions for that particular course, and the times of each session. Be advised: apart from any fee the instructor may charge there will be a $10 fee paid directly to NYS Parks for permanent certification of students 18 and older.
My class lasted less than eight (8) hours. Should I be concerned? Possibly. The New York Safe Boating Course is designed to last eight (8) hours as a minimum, including the final exam. If your course takes less time there is the possibility that you may be denied your safety certificate. If you have any concerns regarding the length of your course, please contact this office at (518)474-0445.
I'm visiting New York. Will my safety certificate from my home state be sufficient? Yes, provided it was issued from your current state of residence, and the course was approved by the National Association of Boating Law Administrators. Look for the NASBLA logo on your certificate.
Can I use my NY safety certificate in other states? Yes. Because the New York Safe Boating Course is NASBLA approved it is accepted in other states and Canada.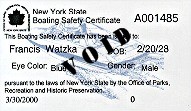 I lost my safety certificate. How can I get a replacement? What if I lost my temporary certificate?
Please complete and print the Application for Replacement NY Safe Boating Certificate and mail it to the address indicated on the form with a check or money order for $10. Please allow three to four weeks for processing. If you lost your temporary certificate you will have to wait until your permanent certificate is issued. Temporary certificates cannot be replaced.

Why did my instructor give me two temporary certificates? After completing the program your instructor should have given you two sheets; a white temporary certificate that you should carry while waiting for your permanent certificate and a yellow copy as well. The yellow copy should be sent to State Parks along with your $10 fee for processing your permanent certificate. State Parks cannot issue a permanent certificate to you until we receive the yellow copy and your fee. If you are less than 18 years old, your instructor should have only given you the white temporary certificate. The instructor is responsible for mailing the yellow copies for those students under the age of 18 to State Parks. In all cases, the permanent certificate will be issued by State Parks.
Why haven't I received my safety certificate yet? There may be several reasons. Processing the vast number of certificates received is a very time consuming process, and most permanent certificates take at least 60 days for processing. If you are over the age of eighteen, ensure that you have sent in the yellow copy of your temporary certificate and the requisite $10 fee. Checks are cashed at the time the permanent certificate is issued.
How can I become an instructor? To become a State certified instructor you must:
Be at least 18 years of age
Not have any convictions or pending charges relating to certain offenses.
Successfully complete an approved boating safety course.
Be able to demonstrate an ability to instruct by currently holding a NYS Teachers Certificate, teach other professional courses, or assist in the instruction of other state certified courses.
For more information, or to begin the certification process, please call (518) 474-0445
I earned a state safety certificate when I was young. Does that count? Yes, provided you still have a copy of your original certificate, and you were under the age of 18 at the time. Records do not exist for courses taught prior to the early 1990's.
What will happen if I do not have a boating safety certificate? If convicted of a first violation you can be fined not less than $100 or no more than $250, or by imprisonment for not more than seven days, or by both fine and imprisonment. For a second conviction, fines and imprisonment terms increase.
Does this impact the Suffolk County's Safer Waterways Act? This bill would supersede it as of May 1, 2014.