The Office of Parks, Recreation & Historic Preservation is the lead agency in New York for the coordination of marine law enforcement efforts. Through the Bureau of Marine Services, Parks oversees the distribution of registration funds to qualifying counties and municipalities. The Bureau also conduct training seminars for law enforcement officers from the state, county and local levels.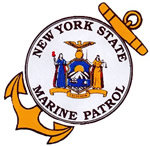 Marine Law Enforcement Agencies
In general, if you have a question or complaint related to boating laws and regulations, you should contact your local Sheriff's Department. For a complete listing of law enforcement agencies across the state, visit the Division of Criminal Justice Services

.
Because many of the towns and villages on Long Island have their own local laws, the local police and Harbor Masters may be the best ones to contact with questions or concerns. Visit New York State Harbormaster & Bay Constable Association

for more information.
Lake George also has rules and regulations unique to that waterway. For more information, visit Lake George Park Commission

.
State Aid
A portion of the money collected from vessel registration fees are provided for distribution to localities which operate marine patrols. While this money, which may reach as much as $3 million per year, goes primarily to the county sheriffs and police departments, some of it is also given to towns and villages. A participating agency may receive aid equal to 50% of their total operating, capital, and personnel expenses, refunded up to a maximum of $200,000.

Training
The Office of Parks, Recreation & Historic Preservation sponsors several training programs each year. They are open, in general, to police officers and peace officer from any agency throughout the state. Aside from the staff of the Bureau of Marine Services, marine law enforcement officers are loaned to OPRHP from throughout the state to accomplish these training missions.
Marine Law Enforcement Course
The Marine Law Enforcement Course provides the basics of the navigation law to the new officer, as well as offering an opportunity to conduct vessel boardings. This program usually runs in early May. It is a full, intensive, forty-hour program, and is limited to fifty students. Applicants must be police officers or peace officers.
Marine Patrol Vessel Operators Course
The Marine Patrol Vessel Operators Course (MPVOC) is an advanced program for the officer who has completed the Marine Law Enforcement Course, and wishes to develop his skills as a boat handler. The course is an intensive program of "hands on" boat handling and seamanship. The MPVOC is held in conjunction with the Marine Law Enforcement course, in early May. Class size is limited to twenty students, and applicants must be either police officers or peace officers.
Impaired Boaters Recognition Program
This course is similar to the Impaired Drivers Recognition Program designed to help police officers detect drunken drivers on our roadways. After classroom instruction, the students get on opportunity to test their skills on volunteers who, in a controlled atmosphere, have been drinking. The standardized field sobriety tests are taught - the one-legged stand and the walk-and-turn - as well as tests designed specifically for use aboard a boat. Officers also learn to test a subject for Horizontal Gaze Nystagmus. Taught once a year, usually in February or March, this program is limited to twenty students, and runs a full forty hours.
Personal Watercraft Operator Training
This course is operation intensive, focused primarily on raising the trainee's operating skill. This course also covers, in detail, the Navigation Law as it applies to personal watercraft. Generally taught once a year, this program is limited to twenty students, and runs a full twenty hours. The training is conducted at Cayuga Lake State Park in Seneca Falls.
Vessel Noise Enforcement Training
Under the New York State Navigation Law, the Office of Parks, Recreation and Historic Preservation is designated as the certifying authority for officers wishing to enforce Section 44, "Noise levels on pleasure vessels". This program can be completed in one day, and is usually taught upon request to any agency wishing to serve as host. The training includes both classroom instruction and field testing of vessels provided by the host. The officer must show competence in performing these tests to receive certification.