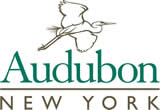 Audubon in the Parks is an initiative with Audubon New York

and the New York State Office of Parks Recreation and Historic Preservation (OPRHP) to advance bird conservation in State Parks, specifically targeting Bird Conservation Areas (BCAs) and Important Bird Areas (IBAs)

. By joining forces to reach common goals, Audubon in the Parks will utilize the collective strengths of both OPHRP and Audubon to have a greater impact on bird conservation across the state through outreach, interpretation, and habitat enhancement efforts.
This partnership approach to bird conservation will further our goals in ways that neither organization could accomplish alone. In these difficult fiscal times with limited budgets and scarce resources, public/private partnerships such as Audubon in the Parks are key to advancing conservation and building strong relationships that will have a lasting impact on the health and vitality of our State Parks system. In addition, by maintaining and enhancing New York's priority birds and habitats, Audubon in the Parks will also help the State and municipalities to capitalize on the expanding bird watching tourism industry; the fastest growing form of outdoor recreation in the State, generating billions of dollars each year in much needed tourism revenue.
The Audubon in the Parks initiative will focus on restoring and enhancing habitat at BCAs and IBAs

, as well as other State Parks that are important for bird conservation. Audubon in the Parks activities will range from leading bird walks, and entering data collected as a result, into eBird (eBird.org) to track bird usage over time, to more involved efforts such as habitat restoration projects. Examples of projects currently contributing to this initiative include the following:
Joseph Davis State Park (IBA and BCA)
Audubon New York, OPRHP, and the Buffalo Audubon Society (BAS) are working to evaluate and improve avian habitat and interpretation at Joseph Davis State Park. This project implements activities identified in the goals of the Niagara River IBA Plan, the Joseph Davis BCA Management Guidance Summary, and the Joseph Davis State Park Master Plan and the Niagara River Greenway Plan. This project will enhance and protect critical bird habitat along the upper Niagara River Corridor, restore sensitive bird habitat to attract migratory bird populations, and also improve public enjoyment of this important resource. This project is currently in the planning phase with implementation expected to begin in 2012.
Clarence Fahnestock Memorial State Park (IBA and BCA)
The Putnam Highlands Audubon Society (PHAS) conducts field trips and Christmas Bird Counts within Fahnestock State Park. Data collected from these efforts contributed to the creation of a bird checklist for the State Park. PHAS also participated in the Park's master planning process by reviewing and providing recommendations to OPRHP on the draft master plan. Key actions for future work include collaborating with Friends of Fahnestock and Hudson Highlands State Parks (FOFHH) to install and monitor American Kestrel nest boxes, a declining species in New York, and remove invasive plants to enhance habitat for priority birds. Other possible collaborations between OPRHP, PHAS and FOFHH include habitat management and restoration projects within the Park's IBAs and BCAs.
Connetquot River State Park (IBA)
The Great South Bay Audubon Society has been active in Connetquot River State Park for a number of years as part of their IBA adoption. In addition to continuing to co-host a birding and breakfast event with the Friends of Connetquot River State Park, the Chapter would like to work with OPRHP to remove invasive plants and replace them with native species that benefit priority bird species, including Northern Bobwhite. Working with Audubon New York, the Chapter is also interested in supporting the Piping Plover stewardship and monitoring efforts at Gilgo State Park by hiring a seasonal technician to conduct the stewardship work.
Find birding activities at state parks throughout New York on our calendar of events.
Enrich your gardens and community for the benefit of wildlife with a two-step process: identifying and removing invasive species and planting natives. In recognition of New York's 7th annual Invasive Species Awareness Week, experts from Audubon New York, OPRHP, Weed Wrangle®, Garden Club of America- New York clubs, and The Native Plant Center hosted the Weeding for Wildlife webinar to teach individuals how to increase the diversity of birds, bees, and other pollinators in the landscape.