June 06, 2013
Randy Simons
Dan Keefe
518-486-1868
Stony Brook State Park Pool to Reopen this Summer
The New York State Office of Parks, Recreation and Historic Preservation today announced that the stream-fed swimming pool at Stony Brook State Park in Steuben County will reopen for the season on June 22. The pool has been closed since the end of the 2009 season due to water quality and clarity issues and budget constraints.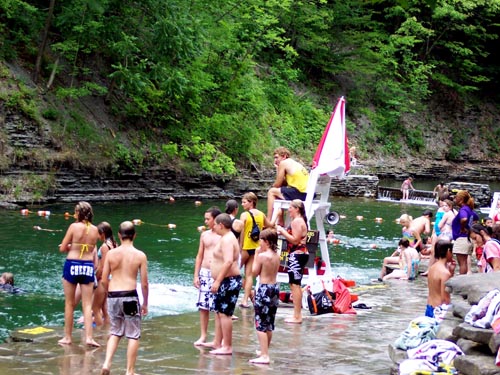 "Generations of New York families have visited Stony Brook State Park to escape the summer heat, relax and have fun with friends and family," said State Parks Commissioner Rose Harvey. "The pool has been a staple of the park experience for decades. I'm excited we are able to reopen the pool for our visitors and ensure Stony Brook State Park remains a popular destination for New York families and visitors to our state."
First opened in 1936, the pool was created by workers from the Civilian Conservation Corps, who built walls with thick and thin layers of stone to mimic the natural gorge and dammed the stream. Skilled state park stone masons have recently rebuilt a fallen stone wall at the edge of the pool. Budget savings achieved through concession agreements for the operation of several golf courses in the Finger Lakes region enable State Parks to reopen the pool this year.
To reduce frequent short-term closures after rainstorms in recent years, park staff will proactively drain the pool if they see water quality or clarity issues increasing, or if a large rain is predicted. Staff will also erect informational signage to warn patrons that wading in the stream above the pool can increase water clarity problems that lead to closure, and will work with park neighbors to reduce agricultural run-off into the stream.
"The long-awaited return of swimming at Stony Brook State Park restores a summertime tradition that area families have enjoyed and looked forward to since the 1930's," said Senator Tom O'Mara of Big Flats. "I appreciate the hard work of the park's staff to ensure the pool's reopening and to take all of the necessary, ongoing steps to ensure the quality of the swimming area."
"This semi-natural swimming pool is the perfect summer attraction and one of the signature features that makes the park a unique destination for travelers. It is encouraging that the park has developed new procedures and signage to hopefully limit future closures. This will allow the pool to remain open as much as possible and residents nearby will be able to escape the heat by visiting this beautiful State Park. For the first time in four summers, the pool is sure to be filled with playful splashing and children's laughter," said Senator Catharine Young of Olean.
"I would like to thank Commissioner Harvey and her staff for devoting time and effort throughout this past year toward the re-opening of the Stony Brook State Park pool," said Assemblyman Phil Palmesano of Corning. "It is clear that the commissioner understands the importance of this attraction in Stony Brook. This will enable full enjoyment of the park and serve both area residents and tourists who come from every direction to visit the area."
"This is great news for the people of Livingston and Steuben Counties and all the people who use our State Parks. Stony Brook is a special place and I want to congratulate the Office of Parks and Recreation for reopening a facility that will be used by thousands this summer," said Assemblyman Bill Nojay of Pittsford.
The swimming area will be open beginning June 22 from 11 a.m. to 7 p.m., seven days a week.Stony Brook State Park's terrain comprises hilly woodlands, a deep gorge with rugged cliffs overlooking three waterfalls and fascinating rock formations. 119 tent and trailer campsites are scattered in the woodlands above the gorge in the upper or south end of the park. Visitors can hike rim, gorge or nature trails, play tennis on park courts, or picnic.
The New York State Office of Parks, Recreation and Historic Preservation maintains and operates 179 state parks and 35 historic sites, which are visited by 60 million people annually. A recent study by commissioned by Parks & Trails New York found that New York State Parks generates $1.9 billion in economic activity annually and supports 20,000 jobs. For more information on any of these recreation areas, call 518-474-0456 or visit www.nysparks.com, connect on Facebook, or follow on Twitter.