June 14, 2013
Angela P. Berti
(716) 278-1764
Niagara Falls State Park Reopens Restored Islands, Cave and Kicks Off Prospect Point Project
Project highlights revitalization of state park system occurring under Governor Cuomo's NY Works program
Rose Harvey, the Commissioner of the New York State Office of Parks, Recreation and Historic Preservation was on hand along with several other elected officials and dignitaries to officially open three newly restored areas of Niagara Falls State Park and break ground on the next round of work. The projects are funded through Governor Cuomo's NY Works program and the Niagara River Greenway.
Commissioner Harvey said, "This is such an historic time at Niagara Falls State Park. We have not seen an infusion of capital and a wholesale approach to the look and feel of this park in a generation. And now our nation's oldest state park is going from shabby to shining. We could not be more grateful to Governor Cuomo for his support of our parks, to our state legislators for their unwavering commitment to parks, to the staff that steward this park and to the local contractors that performed this work. It is just tremendous."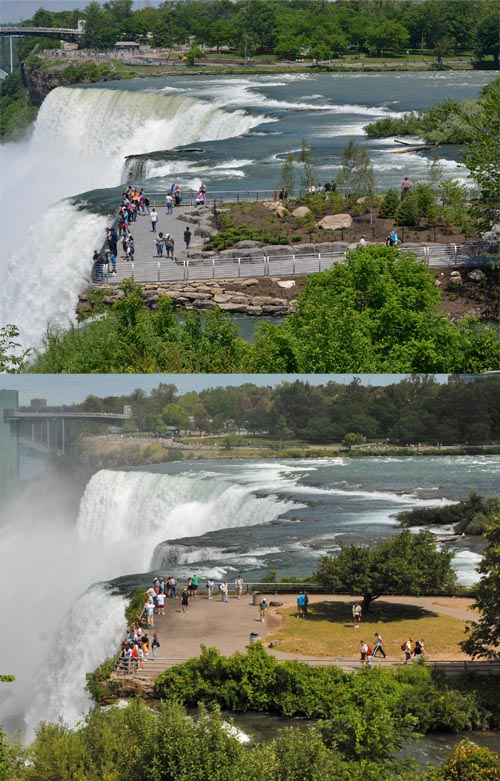 The first phase of the multi-year plan features a $1.8 million restoration at Three Sisters Islands that includes a new trolley shelter, expanded parking area, new pedestrian walkways and overlooks, enhanced landscaping, as well as new railings. Luna Island received a $1.1 million overhaul, including new pedestrian walkways, overlook improvements, enhanced landscaping as well as new benches, light posts and railings. The Cave of the Winds saw a $1.7 million renovation of the tunnel that leads visitors to the gorge as well as the installation of new high speed elevators.
The event also included a ground breaking for a $4.3 million project to revitalize Prospect Point. The work at this popular viewing area will take place in phases so as to always provide access for visitors to the view and will include landscape restoration, new railings, benches, light fixtures and walkway surfaces. The first phase, which is the Point itself, will finish in October 2013 and then move to the Lower Grove Trails to the north and south of the points with work ending in that area by August 2014. Construction will not affect any of the attractions at Niagara Falls State Park.
The improvements revealed today are outlined in a comprehensive landscape improvement plan developed in 2012 to restore the most heavily used areas of Niagara Falls State Park, including its primary viewing points, walking trails, historic buildings, and plantings. All landscape improvement projects will be consistent with the design principles utilized by landscape architect Frederick Law Olmsted in his original vision for the park.
These projects represent a multi-year, $25 million commitment to revitalizing Niagara Falls State Park, the nation's oldest state park. Funding for the Niagara Falls park revitalization initiative will come primarily from money from the Niagara River Greenway funded by the New York Power Authority under commitments made by the authority in 2005 as part of its relicensing process for the Niagara Power Project hydroelectric dam. State Parks will continue to consult with the Niagara River Greenway Commission on the projects.
"The New York Power Authority is proud of the role we're playing in revitalizing Niagara Falls State Park, and helping to preserve this crown jewel of the state park system," said NYPA Trustee Terrance P. Flynn, a Western New Yorker. "The priority that Governor Cuomo set for rejuvenating and upgrading the park led to our providing a lump-sum payment of $25 million from annual funding set aside for Greenway improvements under the relicensing of our Niagara Hydroelectric Power Plant. It is greatly rewarding to see the significant recreational benefits that have resulted from that funding."
"The Niagara Falls State Park draws millions of visitors each year to our area, and these restorations will now match the beauty of the parks to that of the falls," said Senator George Maziarz. "Upgrades to this park have been needed for a number of years, and the improvements at Three Sisters Islands are only the start. I am pleased that the constructions jobs created for the improvements were filled by a Niagara County Company, and I applaud Governor Cuomo and Commissioner Harvey for their continued commitment to Niagara Falls State Park."
"I am pleased that we are using this funding to enhance the quality and aesthetic beauty of our parks. State parks are an important aspect of the region's tourism industry, which is a major local job creator," said Assemblyman John Ceretto. "Moving forward, I would like to see even greater cooperation between state and local officials, especially when determining the design and implementation of our parks in order to stay true to the prolific vision of Frederick L Olmsted."
City of Niagara Falls Mayor Paul Dyster said, "The core of Olmsted's genius was his ability to balance the values of aesthetics and the natural environment with the practical requirements of accommodating large numbers of visitors. These improvements, in a modern expression of classic Olmsted principles, seek to create a more attractive visitor experience in a way that is sensitive to historical and environmental values. Paving has given way to green space, invasive plants have been replaced by native species, and access has been improved in ways that protect the landscape from being 'loved to death' by visitors. Thanks to Governor Cuomo and Commissioner Harvey for all the great work done so far, recognizing that in many ways this is only the beginning of a project that will transform the park's appeal today while protecting it for generations into the future."
Thomas Herrera-Mishler, CEO and President at Buffalo Olmsted Parks Conservancy said, "These projects help to preserve and enhance the historic landscape at Niagara Falls State Park, a legacy built on the genius of Frederick Law Olmsted, who originally campaigned to create this park and designed it to provide free access to one of the world's natural wonders. He foresaw the growth of tourism at Niagara Falls and these improvements respect the spirit of his design principals as they accommodate numbers of visitors that would have astounded even Mr. Olmsted's imagination. Visitors will have the opportunity to enjoy the falls in a naturalistic landscape that is safe and attractive. I am grateful for the State of New York's increased stewardship of this globally significant historic landscape."
John Percy, President & CEO, Niagara Tourism & Convention Corporation (NTCC) said, "The foresight of Governor Cuomo and Commissioner Harvey have granted future generations the opportunity to enjoy Niagara Falls State Park as many before them have. When the renovations are complete, Frederick Law Olmsted's vision will be secure for the millions of guests that visit the park every year. Niagara Falls State Park is an international treasure, and I praise the State on this tremendous effort to preserve the beauty that surrounds one of our natural wonders."
Last year, Governor Cuomo and the state Legislature authorized the NY Works program to provide $89 million statewide, leveraging $143 million in total funding, to move forward with more than 100 overdue projects to improve 55 parks and historic sites and spur job creation and economic development. The Niagara Falls State Park projects were among the first to be funded. This year, a second round of $90 million in NY Works funding will advance an additional 90 construction projects to upgrade and repair more than 50 state parks and historic sites across New York. Scott Lawn Yard of Sanborn was the contractor. Work was completed by Mark Cerrone Inc. of Niagara Falls.
Listed on the State and National Register of Historic Places, Niagara Falls State Park attracts over 8 million visitors a year.
New York State Office of Parks, Recreation and Historic Preservation maintains and operates 179 state parks and 35 historic sites, which are visited by 60 million people annually. A recent study by Parks & Trails New York found that New York State Parks generates $1.9 billion in economic activity annually and supports 20,000 jobs. For more information on any of these recreation areas, call 518-474-0456 or visit www.nysparks.com, connect on Facebook, or follow us on Twitter.
###