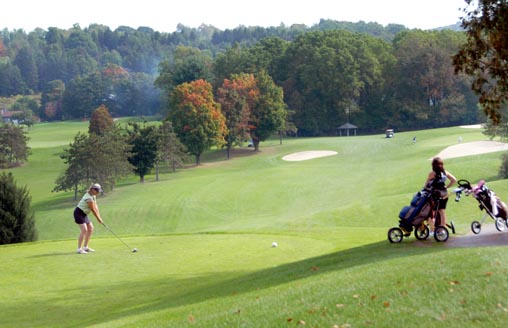 Green Lakes State Park's outstanding features are its two glacial lakes surrounded by upland forest. Both Round and Green Lakes are meromictic lakes, which means that there is no fall and spring mixing of surface and bottom waters. Such lakes have a high potential for evidence of ancient plant and animal life. Another special feature of the park is the 18-hole Green Lakes State Park Golf course designed by Robert Trent Jones. Visitors can also snowshoe in winter, and there are 15 miles of trails that cross-country skiers can use.
Due to the sensitive nature of both Green and Round Lakes, no outside/private boats, kayaks, or canoes are allowed. Rowboat and kayak rentals are normally available Memorial Day - Labor Day at the Boat House, weather permitting - but is currently closed.
Thanks to a grant from the Christopher & Dana Reeve Foundation, a Hippocampe Beach/All Terrain wheelchair is now available at Green Lakes State Park to access beach and trails. The wheelchair is available for use at no charge on a first come, first serve basis from 11am-7pm. Please check with the lifeguards at the beach for availability.
Pavilion Information
Green Lakes has five pavilions/rooms. Prices range from $150 to $600 and can accommodate 40 to 100 people. Check availability at ReserveAmerica.com
Current Water Quality - Beach Results
Pet Policy: A maximum of two pets are allowed in campsites and day use areas unless prohibited by sign or directive. Pets are to be supervised at all times and either be crated or on a leash not more than 6-feet in length. Proof of rabies inoculation shall be produced if requested by staff. Pets are not permitted in playgrounds, buildings, golf courses, boardwalks, pools and spray-grounds or guarded beaches (this does not apply to service animals).
Hours of Operation
Park open year-round from dawn to dusk.

2021 Camping/Cabins:

Campground is closed for the season and will be open May 21 through October 11, 2021.

Campsites - 145 campsites, maximum of 6 people/site.
Cabins - 7 cabins (Minimum age of 21 required for rentals)
Camping Season: 5/21/21 - 10/11/21
Cabins available: 5/21/21 - 10/11/21

Reserve through ReserveAmerica: 800-456-2267

2021 Swimming Season:



Open weekends only from 11 a.m. to 7 p.m. Memorial Day weekend through June 18. Open daily from 11 a.m. to 7 p.m. from June 19 through Labor Day.

Boat House: Kayak rentals unavailable until further notice.


Fishing: Only on Green Lake outside of swimming area. No fishing on Round Lake. No outside boats or watercraft allowed.

Golf: April 1 to November 15 (weather permitting).

Tee Times are Every 10 Minutes.


Please call the pro-shop at 315-637-4653 for in season hours of operation.




Nature Center: Currently Closed Until Further Notice


Please stop by the Park Office or visit the Green Lakes Facebook page for updates.

Park Office Hours: Fall/Winter - Daily from 8 a.m. to 4 p.m.
Fees & Rates
Most New York State Parks charge a vehicle use fee to enter the facility. Fees vary by location and season. A list of entry fees and other park use fees is available below. For fees not listed or to verify information, please contact the park directly.
The easy-to-use Empire Pass card is $80- and your key to all-season enjoyment with unlimited day-use entry at most facilities operated by State Parks and the State Dept. of Environmental Conservation including forests, beaches, trails and more. Purchase online or contact your favorite park for more information. Learn more about our Admission Programs including the Empire Pass.
Beach/Swimming
Included in day use/vehicle entry fee. Beach and swimming will open Saturday of Memorial Day weekend from 11 a.m. to 7 p.m. through Labor Day daily, including holidays.
Boat Rentals

Boat Rentals Are Unavailable Until Further Notice.




Normally: 11 am to 7 pm - Last boat rental at 6, must be back by 7.




Single Kayaks: $7/hour;

Tandem Kayaks: $10/hour;

Crystal tandem kayaks: $20/hour;

Rowboats: $7/hour;

Boating Rules must be followed and are available at rentals.

Rentals not available during inclement weather.




Camping

Campsites: Camping Season is from 5/21/21 to 10/11/21

$18-$36/night

*Additional $5/night for non-NYS residents


Cabins:
Cabins rented from Saturday to Saturday during peak season*, 7 or 14 days ONLY
$434 per week
$108.50 per night - 2 night minimum

$7.25 Registration Fee
Additional $28/week for non-NYS residents
Additional $7/night for non-NYS residents
*Peak season - normally 4th Saturday in June until Saturday Labor Day weekend

*Minimum age of 21 required for rentals
Golf Course
9 hole Weekdays: $18
9 hole Weekends/Holidays: $20
18 hole Weekdays: $21
18 hole Weekends/Holidays: $30

Jr/Sr 9 hole: $11
Jr/Sr 18 hole: $15
*Jr/Sr rates apply on weekdays and after 1 p.m. on weekends

Twilight 18 hole (after 6 pm): $14
*During June, July & August

2021 Spring/Fall Rates:
Before 5/21 and after 9/20, 18 Hole Greens Fee: $20

9 Holes with golf cart: 2 riders $9 per rider, solo rider $14

18 Holes with golf cart: 2 riders $15 per rider, solo rider $20

Any questions, please call Pro-shop at (315) 637-4653

Snowshoeing
Snow Shoe Rental Currently Unavailable.




Normally $2/hour or $10/day, when offered.
Must stay within the park.

Vehicle Entrance Fee
Cars: $10
Non-Commercial Bus Fee: $35
Commercial Bus Fee: $75
Seasonal Bus Permit: $75

Maps

New! Download this park's digital map to your iOS Apple and Android device.
Firewood source maps show a 50-mile radius from which untreated firewood may be moved to this campground. For more information see firewood restrictions.
The Central Region Environmental Education Team offers a variety of programs in our parks. Each park offers their own free public programs.
We also offer guided programs for groups (of 10 or more) and field trips at the following state parks: Green Lakes, Clark Reservation, and Selkirk Shores. Please fill out this quick registration form if you would like to schedule a guided group or field trip program at one of those parks. Our Regional Environmental Educator, Katie Mulverhill, will reach out to coordinate the details of your program after receiving the registration form. If you are interested in a program at any of our other state parks, please reach out to the park office directly to schedule your visit.
We offer several program topics to choose from, but if you don't see what you are looking for let us know. We are working on adding to our lesson plans and will gladly create something teachers request, if time permits.
Green Lakes State Park: Home to rare lakes, old growth forests, and aquatic habitats, Green Lakes State Park offers the perfect outdoor classroom. Students see scientific concepts come to life in the real world. Over the past few years we have been writing standards based (NY P-12 science standards) lessons for the park:
K-1: Animal Survival Skills- Explore adaptations animals use to survive in many different habitats at Green Lakes. Observe animals in real life to see what they do when they think no one is watching!
2: Engineers Against Erosion- Get your hands dirty learning how engineers are protecting our visitors and lakes from erosion. Then test out your own ideas!
3-4: Sculpted by Nature: Learn how glaciers carved the park's landscape and created our unique lakes full of unusual life. Try your hand at carving the landscape by reading topographic maps.
5: Ecosystem Encounters- Discover what interdependent relationships in ecosystems can teach us about protecting wildlife at Green Lakes State Park.
High School: Into to Limnology includes hands-on water quality testing and studying life from the lake (from small bacteria to fish!)
For Everyone: our most popular request is for a guided hike around Green Lakes. These can be formal or informal and can include an array of different topics.This is just the beginning; more programs are being developed! The Education Center has heat, so visit us any time of year.
Connect Kids to State Parks Field Trip Grants: Looking for ways to make field trips more affordable? Our Connect Kids to Parks Transportation Reimbursement Grants cover most of the costs associated with a field trip to state lands; including busing, entrance and program fees, or contracting for special programs.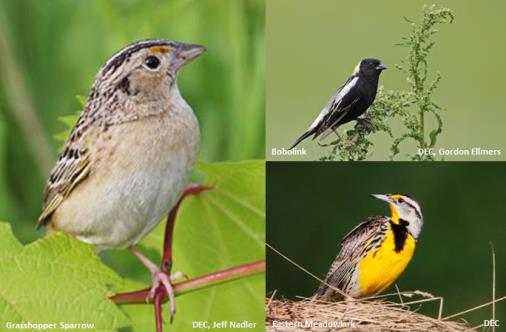 Key BCA Criteria:
- Migratory concentration site
- Diverse species concentration site
The Green Lakes BCA is located within Green Lakes State Park. The BCA is unique in that it contains significant tracts of both mature forest and grassland habitat, providing habitat for an unusually diverse suite of bird species. The grasslands within BCA represent the largest concentration of grassland habitat in the New York State Park system. Grassland-breeding species include Eastern Meadowlark, Bobolink, and Grasshopper Sparrow. Mature forest birds include Rose-breasted Grosbeak, Eastern Wood-Pewee, and American Redstart.
Download a copy of the BCA map.
Go Birding with the Green Lakes Bird Checklist
I Love My Park Day
Saturday, May 1, 2021
Green Lakes State Park
Meeting Location for all Projects: Proceed directly to campground
Volunteer Project #1: Rolling Hills Campground Cleanup - we will be cleaning up debris in the Rolling Hills campground. We'll also be relocating picnic tables and cleaning out fire rings. May get dirty, wear old clothes and dress for the weather. Start time: 10:00 am End time: 12:00 pm Ages: All ages welcome Please bring: Garden gloves suggested, but not required. Tools will be provided, but you may bring your own rake too, if you'd like.
Volunteer Project #2: Pinewoods Campground Cleanup - we will be cleaning up debris in the Rolling Hills campground. We'll also be relocating picnic tables and cleaning out fire rings. May get dirty, wear old clothes and dress for the weather. Start time: 1:00 pm End time: 3:00 pm Ages: All ages welcome Please bring: Garden gloves suggested, but not required. Tools will be provided, but you may bring your own rake too, if you'd like.