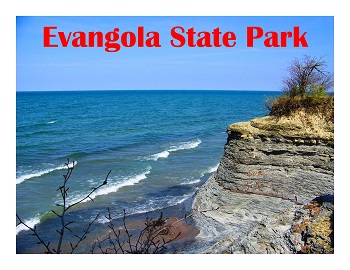 Evangola State Park's major attraction is the beautiful natural sand beach located on the shore of Lake Erie. Scenic cliffs of Angola shale line the remainder of the park shore near the three campground loops. The park features swimming, several picnic shelters, a banquet room, grassy picnic areas, baseball diamonds, basketball and tennis courts, 80 campsites, 6 yurts, a cabin and a nature center.

Yurts are now available for reservations.
Yurts are wood lattice-framed structures with heavy duty re-enforced fabric sides and insulated liners. They have windows, a domed roof, and wood floors. State Park yurts include six cots and mattresses as well as a refrigerator and a microwave. Visit Reserve America to book your stay.
Pavilion Information
Evangola State Park has 11 pavilions. Prices range from $50 to $250 and can accommodate 50 to 118 people. Check availability at ReserveAmerica.com.
For permit Information please email: evangolastatepark@parks.ny.gov
Current Water Quality - Beach Results
Pet Policy: A maximum of two pets are allowed in campsites and day use areas unless prohibited by sign or directive. Pets are to be supervised at all times and either be crated or on a leash not more than 6-feet in length. Proof of rabies inoculation shall be produced if requested by staff. Pets are not permitted in playgrounds, buildings, golf courses, boardwalks, pools and spray-grounds or beaches (this does not apply to service animals).
Fees & Rates
Most New York State Parks charge a vehicle use fee to enter the facility. Fees vary by location and season. A list of entry fees and other park use fees is available below. For fees not listed or to verify information, please contact the park directly.
The easy-to-use Empire Pass card is $80- and your key to all-season enjoyment with unlimited day-use entry at most facilities operated by State Parks and the State Dept. of Environmental Conservation including forests, beaches, trails and more. Purchase online or contact your favorite park for more information. Learn more about our Admission Programs including the Empire Pass.
Banquet Room
$250
Camping
Campsites:
$15-$27/night
*Additional $5/night for non-NYS residents

Cabins:
Per night: daily rate is 1/4 the weekly charge
Per week: $420

Additional $28/week for non-NYS residents
Additional $7/night for non-NYS residents

Yurts:
$83.75 per day / $335 weekly (NYS Residents)
$90.00 per day / $360 weekly (Non-NYS Residents)
Vehicle Entrance Fee
$7
Non-Profit Buses $35
Commercial Buses $75
Non-Profit Seasonal $75

Collected:
5/25-6/16: 9am-5pm, weekends & holidays only
6/22-9/2: 9am-5pm, daily


Wedding Gazebo
$50.00
Maps
Firewood source maps show a 50-mile radius from which untreated firewood may be moved to this campground. For more information see firewood restrictions.
Highlights of Evangola State Park:
The campground and picnic areas at Evangola State Park overlook scenic lake vistas, a sandy swimming beach and world-famous Lake Erie sunsets
These are unique ice formations only found on a few of the Great Lakes. Ice volcanoes are formed by crashing waves which freeze in the form of magnificent cones of ice. The cones "erupt" when they shoot water up through their cores. Many people walk the Evangola shoreline to see this rare winter sight.
Lake Erie's water moderates the temperature of the coastal region, so the vibrant colors of the fall foliage last well into October at Evangola State Park.
Vernal Pools form in spring as "puddles in the forest" and dry in the summer. Because predatory fish can't survive in these ephemeral pools, they are an important habitat for insects and amphibians that lay their eggs in water, such as wood frogs, spring peepers, and American toads.
One of the earliest migrant birds to arrive in the springtime, the male American woodcock's mating flights at dusk and dawn are one of the most spectacular sights of the park. The male woodcock begin on the ground with a buzzy "peent" call and then flies upward in a wide spiral as his wings produce a twittering sound. After reaching a height of 200 to 350 feet, the bird descends in a zigzag fashion, chirping as it flies.
Every year, Monarch Butterflies perform an amazing 2,400 mile between Mexico and Canada. Every September at Evangola State Park, huge numbers of Monarchs can be seen resting in the trees, a respite on their 6 to 8 week journey from New York State to the Sierra Madre Mountains in Mexico where they spend the winter.
Even though the populations of this bird are in decline across much of the U.S., The red-headed woodpecker population at Evangola State Park is quite stable. Patrons in the campground and nature center see them often, and they are a beautiful and active bird in the park.
The three acre wetland along the entrance parkway was created in 2010 with the NYS Thruway Authority. The wetland was part of a project to mitigate the environmental impacts of work conducted along the NYS Thruway. This new habitat feature is home to various amphibian, reptile, and fish species, as well as a nesting and foraging site for a variety of birds and ducks. Because of the success of the project, its excellent design, and its use as an outdoor classroom, the marsh won the ACEC Engineering Excellence Award in March 2013, the first landscape project to ever win this prestigious award.
Look and listen for these birds at our Park:
What will you see? Plan your visit today!
Ask a Naturalist!
Q: Are the ice volcanoes safe to walk on?
A. Lake Erie ice is notoriously unstable and can be dangerous. To be safe and see the ice volcanoes up close, take a naturalist-guided ice volcano hike to learn about how they form and how ice volcanoes help the Lake Erie environment. Tours can be easily be arranged by calling (716) 549-1050.
Q: Is it safe to swim in Lake Erie?
A: At Evangola State Park the water is routinely tested during the swimming season to make sure it is safe. The park has excellent water quality and is almost always open for swimming.
Q: Where is a good place to spot a Bald Eagle?
A: Bald eagles tend to stay close to water where they can keep an eye out for the fish they like to eat. For this reason, the beach, trails and pathways along the Lake Erie shoreline are the best spots to see a Bald Eagle. Bald eagles are even more common late fall and winter, when Bald Eagles leaves frozen inland lakes and ponds to feed over Lake Erie until it freezes over as well.
Everyone is a Steward! Be an Evangola State Park Preserve Hero:
Know the rules and potential hazards for the area you'll be visiting.

Use a map and compass instead of flagging, rock cairns, or marking paint.

Hike on established, durable trails.

Carry in and carry out your waste.

Leave all natural objects as you find them.

Fires are permitted only in barbecue grills. Please dispose of coals in bins provided.

Respect wildlife and observe from a distance.
For more information, please read our Trail Tips!
When you enter or leave Lake Erie:
Clean and remove all visible plants, animals, fish and mud from your boat, trailer and other equipment and dispose of it in a suitable trash container or on dry land.

Drain water from bilge, live wells, ballast tanks and any other locations with water before leaving the launch. Disinfect when possible.

Dry your boat, trailer and all equipment completely. At least 5 days of drying time is recommended. Drying times vary depending on weather and material.
DID YOU KNOW?
Wildlife:
Evangola State Park is a key site for bird and bat migrations in the fall. In a 2012 U.S. U.S. Fish and Wildlife study, the Evangola State Park bird and bat monitoring station near Lake Erie was cited for having the highest single night count of migrating birds and bats of recorded at any station on the Great Lakes!
Weather:
Lake-effect snow occurs when winter storms pass over Lake Erie's water, producing narrow bands of localized snow. At Evangola State Park winter visitors take advantage of this to enjoy the snowshoe and cross-country ski trails, or the separate snowmobile trail.
Park Amenities:
The Evangola Nature Center is in historic 1929 YWCA Recreation Building with original hieroglyphs and art from the women who stayed at "Camp 40 Acres" during the 1930s. During World War II, women who worked in defense plants were invited to the progressive Camp 40 Acres for "interracial weekends," which gave them the opportunity to enjoy the outdoors together and learn how to work together to accomplish goals. In 1957 Mary Elizabeth Woods became the executive director of the camp, the first African American in the nation to hold that position.

The Evangola Nature Center offers activities and displays focused on the Lake Erie environment that surrounds it. Call (716) 549-1050 for nature center hours and information on outdoor education programs.
Hunting Permit
Hunting Rules & Procedures
Hunting Zones
1. All vehicles must be parked in designated parking areas.
2. The area should be left in a clean condition. Garbage and rubbish must be placed in cans or dumpsters provided for that purpose.
3. The possession and consumption of alcoholic beverages is prohibited.
4. A copy of your hunting permit must be present on the day of hunting.
5. Vehicles are restricted to roadways and parking lots. Operation of vehicles on service roads, walkways, or grass areas is prohibited.
6. Permittee shall promptly report any and all unusual incidents directly to the Park Manager or Park Police. Unusual incidents include, but are not limited to, damage to Park property, accidents, personal injuries, and emergencies involving medical personnel.
7. Must hold a valid NYS Hunting License and comply with all laws.
Questions and/or concerns concerning Evangola State Park may be directed to Park Manager at 549-1802, Monday to Friday between 7:30 a.m. and 3:00 p.m.
Evangola State Park (716)549-1802 part of theNIAGARA FRONTIER STATE PARK COMMISSION