Fall Hiking
With cooler temperatures and nature's colors on display, fall is the perfect time to get outdoors! New York State parks and historic sites have over 2,000 miles of trails just waiting to be explored. From easy walks on carriage roads to rugged backcountry treks, chances are you will find a great spot to get outside and soak in the season.
Join us on the trail! Explore new scenery, meet new people, and learn about nature and history as you enjoy the season. We offer a varying line-up of guided hikes and walks. Check back often, as hikes are added continuously.
For up-to-date information on the changing fall colors, check out the I Love NY Fall Foliage Map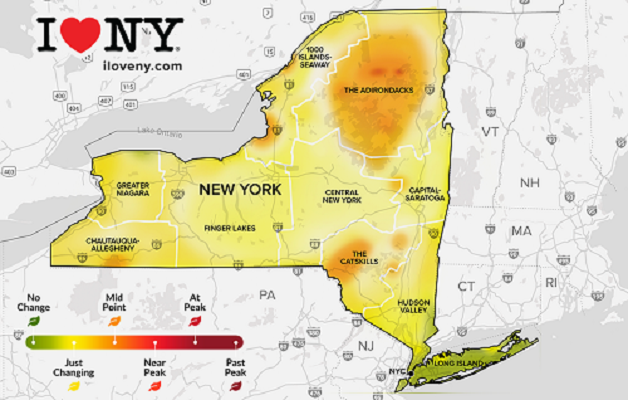 Trail Maps
Before you explore on your own, be sure you have a trail map.
NY State Parks Explorer App
Jumpstart your next adventure with the free NY State Parks Explorer app. Enjoy quick access to key information all in one place -- park info, directions, hours, fees and rates, trail maps, and helpful know-before-you go details. Receive important updates and alerts about your most-loved places by adding them to your 'favorites' list. Available for both iOS and Android. Learn more
Explore Some New Territory
Been there, done that? Check out these suggestions based on regions of the state.
Leave No Trace
You play a key role in protecting our parks and ensuring that they're enjoyable and welcoming to all visitors. It's important to be aware of our effects on plants, animals, other people, and entire ecosystems. To minimize our impact, follow the Leave No Trace

principals.
Plan Ahead and Prepare: Know the rules for the areas you visit. Bring plenty of water, a jacket and layers in case of changing weather, and a map so you know the route.
Travel on Durable Surfaces: Follow blazes and stick to established trails. Walking off trail can create unwanted paths, cause erosion, and damage plants.
Dispose of Waste Properly: Pack out what you pack in. Keep our outdoor spaces clean and don't leave behind any trash, food, or pet waste.
Leave What You Find: Help preserve the environment by leaving rocks, plants and other objects as you find them.
Minimize Campfire Impacts: Fires are not allowed outside campgrounds in State Parks. When camping at a designated site, keep fires small and consider a backpacking stove for cooking.
Respect Wildlife: Observe wildlife from a distance. Do not follow, approach, or feed wild animals. Keep dogs leashed at all times.
Be Considerate of Other Visitors: Respect other visitors and protect the quality of their experience. Avoid loud noises and let nature's sounds prevail. Say hello, be courteous and share the trail!
Leave No Trace video series.