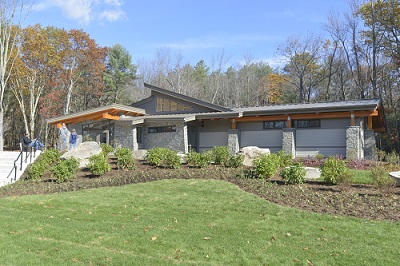 Grafton Lakes State Park, on the forested plateau between the Taconic and Hudson Valleys, includes six ponds and nearly 2500 acres. Long Pond has a large, sandy beach, which is a popular summer attraction. Anglers can go after rainbow and brown trout in Long, Second and Shaver Pond. Pickerel, perch, and bass are abundant in all ponds including Mill Pond and walleye are found at the Martin-Durham Reservoir. All ponds have launch facilities for canoes, sailboats and rowboats, electric boat are allowed. Visitors also picnic, walk the nature trails, and hike, bike or ride horses along the 25 miles of park trails (No ATV use allowed).
In winter, the trails are groomed for snowmobilers, and visitors may also snowshoe, cross-country ski, ice skate or ice fish when conditions permit, call for details.
Pavilion Information
Grafton Lakes has six pavilions/tents available. Prices Range from $50 to $100 and can accommodate 40 to 150 people. Check availability at ReserveAmerica.com.
Pet Policy: A maximum of two pets are allowed in day use areas unless prohibited by sign or directive. Pets are to be supervised at all times and either be crated or on a leash not more than 6-feet in length. Proof of rabies inoculation shall be produced if requested by staff. Pets are not permitted in playgrounds, buildings, golf courses, boardwalks, pools and spray-grounds or guarded beaches (this does not apply to service animals).
Hours of Operation
CURRENT PARK SCHEDULE & UPDATES

The park is open year-round, 8 am until sunset

Welcome Center/Office: Open Wednesday - Monday from 9am - 4pm (Closed Tuesdays)

*

The park will be open but the Welcome Center will be closed on Thursday 11/25 for Thanksgiving, Friday 12/24 for Christmas Eve & Saturday 12/25 for Christmas Day.

Parking Fee: May 1 - Friday before Memorial Day Weekend, weekends only - $6 per vehicle; Memorial Day - Labor Day: daily, $8 per vehicle; Day after Labor Day - Columbus Day, weekends only - $6 per vehicle
Swimming: Open daily Memorial Day Weekend - Labor Day, 10AM - 5:45PM
Day Use/Picnicking/Hiking: Available year-round
Snowshoe rentals available at the Welcome Center in the winter, weather permitting
Picnic Shelters: May 1st - Columbus Day. Advance reservations available at reserveamerica.com
Restrooms open daily through Columbus Day

*Picnic area restrooms are closed after Columbus Day. Restrooms are available in Welcome Center during office hours and a Clevis toilet is available at the end of the main parking lot by the playground during park hours

Trails are open, conditions permitting
Playgrounds are open until snowfall
Concession and Boat Rentals:

Normal operating schedule is from Memorial Day weekend through Labor Day. Our concession and boat rentals are privately contracted by Windstar Catering & Amusements
Fees & Rates
Most New York State Parks charge a vehicle use fee to enter the facility. Fees vary by location and season. A list of entry fees and other park use fees is available below. For fees not listed or to verify information, please contact the park directly.
The easy-to-use Empire Pass card is $80- and your key to all-season enjoyment with unlimited day-use entry at most facilities operated by State Parks and the State Dept. of Environmental Conservation including forests, beaches, trails and more. Purchase online or contact your favorite park for more information. Learn more about our Admission Programs including the Empire Pass.
Vehicle Entrance Fee
Parking Fee:

May 1 - Friday before Memorial Day weekend, weekends only - $6 per vehicle;

Memorial Day weekend - Labor Day: daily, $8 per vehicle;

Day after Labor Day - Columbus Day, weekends only - $6 per vehicle

Boat Rental Schedule
Concession and boat rentals are closed for the season. They are generally open from Memorial Day weekend through Labor Day. Our concession and boat rentals are privately contracted by Windstar Catering & Amusements
Interpretive Programs

$2 per person

$5 per family

Snowshoe Rental
$10 per day
$5 for 4 hours or less
Maps

New! Download this park's digital map to your iOS Apple and Android device.
Highlights of Grafton Lakes State Park:
• Grafton Lakes State Park comprises nearly 2500 acres of land within the surrounding landscape of the Rensselaer Plateau, whose extensive forests are home to black bear, river otter, and even moose. Located only 20 minutes from Troy, New York, the park provides excellent wildlife watching opportunities for outdoor enthusiasts. Look for tracks and animal signs along the trails, or better yet come snowshoeing in winter with the Park Naturalist for a guided tour of who's been active in the woods.
• Shaver Pond is an example of an "oligotrophic" lake, low in nutrient levels with clean, clear oxygen-rich water. When you take a paddle, you may think the lake bottom is just a few feet down, but dip your paddle in some spots and you'll discover just how crystal clear the lake truly is!
• The rocks in the forests in Grafton, once called Roxborough, have had a big impact on its cultural history. They are largely Rensselaer Greywackle, a type of sandstone that is very slow to degrade into poorly drained acidic soil. Imagine the perils of plowing this landscape for early settlers, and the many hours of back-breaking labor that would have gone into it. Grafton's rocks and soils did not encourage farming, and by the late 1800s the farm fields and pastures had begun to return to the forest, just 100 years after the area was first inhabited by early American settlers. Look along the trails for old stone walls from this bygone era.
• Located off the Fire Tower Trail, the Dickinson Hill Fire Tower gives views of Massachusetts Berkshire Mountains, Vermont's Green Mountains, and the Adirondacks. The Friends of Grafton Lakes State Park restored this fire tower in recent years, so climb its eighty steps to enjoy the spectacular view.
• Beavers have been active in the park since the 1930's, when their numbers began to increase thanks to conservation efforts. They are responsible for many of the open wetlands in the park, and you will see signs of them along the shores of every pond in the park. They play a powerful role as engineers of the natural environment through the construction of dams. The dams help raise water levels to protect their lodges, and in turn provide more wetland habitat for other wildlife.
What will you see? Plan your visit today!
Look and Listen for these birds at our Park:
The many types of bird species in Grafton Lakes State Park, along with the surrounding forest lands of the Rensselaer Forest Tract resulted in the area being named an Important Bird Area by Audubon.
Everyone is a Steward: Be a Grafton Lakes State Park Hero!
Know the rules and concerns for the area you'll be visiting.
Leave rocks, plants and other natural objects as you find them.
Let nature's sounds prevail. Avoid loud voices and noises.
Respect other visitors and protect the quality of their experience. Be courteous. Yield to other users on the trail.
Observe wildlife from a distance. Do not follow or approach them. Never feed animals. Feeding wildlife damages their health, alters natural behaviors, and exposes them to predators and other dangers.
Use extra caution when using headphones. You may not be able to hear warnings.
Don't litter.
For more information, please read our Trail Tips!
Ask a Naturalist!
Q: What kinds of fish are found in Grafton Lakes State Park?
A: I hear this question nearly as often as some little person asks me if Grafton has sharks in the water! No sharks, but plenty of fish. Grafton has many members of the sunfish family, including small and large mouth bass, pumpkinseeds, blue gill, and rock bass. The sleek chain pickerel, the "whiskered" brown bullhead, yellow perch, and varieties of trout also live in the park's ponds. Want to see for yourself? We offer free fishing clinics for young people on request, and also host a fishing clinic annually on the last weekend of June as part of Free Fishing Weekend, when no license is required.
Q: "Who made that?"
A: This is one of the questions I receive most from all sorts of people in response to all sorts of mysteries. It may come up when we're looking at a pile of a pine cone remains under a spruce tree, or a pair of round tracks with five toes and claws digging into the snow. Or perhaps even after a bird makes a sudden alarm call from the tree tops. The best part is the excitement that comes from figuring the answer out together! We have our detective skills, binoculars, field guides, and lots of other tools to help us track down answers to the wild's fascinating mysteries.
Q: Where should you take a hike with your family when visiting Grafton Lakes State Park?
A: One of the popular trail loops is the Shaver Pond Trail. Less than 2 miles in length, it brings you past wetlands, hemlock and maples, lakeshore and vistas, and is very doable for young hikers. In winter, you'll see signs of mink and deer aplenty, while in spring there is a chorus of little frogs, called Spring peepers, serenading all passersby. If you want some big views, take the hike up the Fire Tower Trail, which is 3 miles round trip. Along the way, there are some wet spots great for spotting animal tracks and some very busy beaver activity. Make sure to pick up a trail map at the park office before you head out!
Did You Know?
- DID YOU KNOW? Many of the exposed rocks you see in Grafton Lakes State Park were formed a mile down deep in the ocean below an ancient arc of volcanic islands, over 500 million years ago. Today they are sitting atop a Plateau at 1600 feet! A lot can change in 500 million years!
- LISTEN UP! Literally... you may hear the call of a Broad-Winged Hawk when you are hiking the trails at Grafton Lakes State Park. They are easier to hear above your head than to see in their forest home.
- DID YOU KNOW? Fast-flying Dragonflies start out their lives swimming in the water, as nymphs. While they lack wings during this stage, they are still fearsome predators of other aquatic creatures, even tadpoles.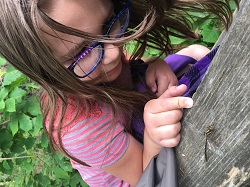 Rensselaer Youth Outdoors
Grafton Lakes State Park is a Proud Partner in Rensselaer Youth Outdoors (RYO), bringing expanded environmental education opportunities to Rensselaer County youth and families. RYO is a unifying partnership between county, state, federal, and not-for-profit community groups, creating a whole that is greater than the sum of its parts. Together, we can accomplish so much more than we can on our own.
Rensselaer Youth Outdoors is a network of partners whose mission is to introduce and engage the children and families of Rensselaer County in the wonder, science, and adventure of nature in an effort to create a healthier, more sustainable community in an increasingly complex world.
RYO provides field trips to parks, forests, and other natural areas for students, as well as training and materials for teachers to bring environmental education to the classroom. Partners include Grafton Lakes State Park, Dyken Pond Environmental Education Center, and the Rensselaer Plateau Alliance. Additionally, representatives from Siena College, Cornell Cooperative Extension, Friends of Dyken Pond, the Children's Museum of Science and Technology, various Rensselaer County School Districts, and the USDA Forest Service - Northern Research Station assist in advising and implementing RYO programs.
To learn more, please visit: https://www.ryoutdoors.org/
Programs Offered in Fall and Spring:
Busy Beaver:
Nature explorers will find beaver on all six lakes at Grafton Lakes State Park. How are beaver like us and how are they different from us? What is happening inside of a beaver lodge? We'll engage First graders' natural curiosity about wild creatures through this program of discovery. Students will also make a very quiet visit to an active beaver lodge.(ELA W 1.8, NGSS 1-LS1)
Cycles of Nature:
Cycles of nature are all around us! If your students have just learned about them in the classroom, then let us show them actively underway in our beautiful setting. We'll start with the story of the water cycle and weave it into the cycles of some of our local plants and animals through games, a scavenger hunt, and a pond explore. (ELA W.2.3, NGSS 2-ESS2)
"Go Fish" at Grafton lakes!:
The park is known for its lakes and abundant wildlife, but which fish actually live in our underwater world? Come meet them by the pond! In collaboration with the I Fish NY program, the park brings students to Long Pond for this program about our local fish ecology, their life cycles and habitat needs. Kids will design their own fish suited to a pond habitat, play tag as a sunfish, and perhaps catch one off of Long Pond dam! (ELA W 3.8, NGSS 3-LS1, 3-LS2, 3-LS4-2&3)
We are also available for in-school programs or can fashion a new program around a topic that suits your curriculum in our outdoor classroom. Additional winter snowshoe programs are available for schools with classes of 20 students.
Our programs are interdisciplinary and address both Common Core and Next Generation Science Standard in an outdoor setting. Students will explore, imagine, play and interpret the natural world around them. Programs typically run for about two hours, and the fee is $2-3 per student depending upon resources required. Pre and post-program activities are generally available for all programs. Additional programs can be designed around other topics of interest. For large classes with older students, rotation programs may be designed that give students a multi-disciplinary experience in an outdoor setting for a half day at a rate of $3/student.
State Parks has launched a grant program to provide transportation funding assistance to schools for field trips to State Parks. Learn more about eligibility and how to apply.
SCHOOLYARD NATURALIST TEACHER KITS
K-8 tools and activities to spark curious minds through outdoor investigation
Thanks to a generous grant from the USDA Forest Service, the following kits are available for loan to all Rensselaer County teachers. Please contact our Environmental Educator at the Grafton Welcome Center at 518-279-1155 or graftonlakessp@parks.ny.gov for more information:
TREES: Schoolyard trees and plants are wonderful catalysts to investigating the natural world! The trees we walk by every day can transform into fascinating, year-round outdoor labs! The activities and materials in these kits give teachers tools and ideas to take students into the schoolyard and beyond to study trees, the organisms that cool our homes and transform our breath into clean, freshly oxygenated air. Most of the lessons require just a few simple materials that are probably already in your classroom. In this kit, you will find a few additional materials that you might not have, including tree identification guides, hand lenses, tree cross sections and measuring tapes. We've also included a few non-fiction books to spark learning and inspire more investigation. Have fun exploring the outdoors!
BIRDS: Unlike many other types of wildlife, we can often observe birds just by looking out our windows. By learning about birds outside the classroom and in the local community, students can acquire an increased understanding about the lives of birds, as well as the animal kingdom, in general. This kit focuses on basic observation skills with binoculars, and on learning about the fascinating 'backyard birds' that share our neighborhood habitats. The curricula in this kit are borrowed from Mass Audubon and the Taconic Education Center. We've included most of the materials you will need to complete the activities, including kid friendly bird guides, feathers, binoculars and a few fiction and non-fiction books to spark further learning. Happy birding!!
INSECTS: From the tiniest sidewalk crack to the slightly overgrown lawn, it's hard to find a place where insect life doesn't abound! These fascinating, often misunderstood creatures are right outside (and sometimes inside) our doors, waiting to be studied! The lesson plans in this kit were obtained from a variety of sources, including the Cayuga Nature Center, the Vermont Institute of Natural Science's, Hands on Nature and the Dyken Pond Environmental Education Center. We 've included some background information on insects and most of the materials you will need to complete the activities, including bug boxes, bug nets, common insect identification guides and a few fiction and non-fiction books to spark further learning.
THE PRIVATE EYE CURRICULUM: From the Private Eye Website: The Private Eye is a program about the drama and wonder of looking closely at the world, thinking by analogy, changing scale and theorizing. Designed to develop critical thinking skills, creativity and scientific literacy - across subjects - it's based on a simple set of tools that produce "gifted" results. Hands on, investigative, The Private Eye - using everyday objects, a jeweler's loupe, and simple questions - accelerates science, writing, art, math and social studies, as well as vocational and technological education.

Environmental Educators
518-279-1155 or graftonlakessp@parks.ny.gov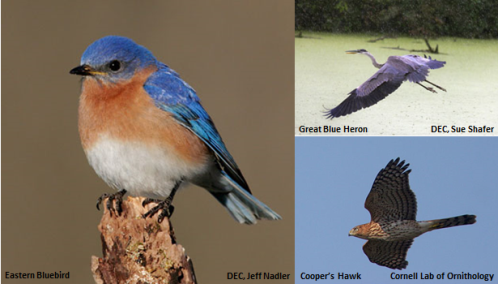 Key BCA Criteria:
-Migratory concentration site
-Diverse species concentration site
-Species at risk site
The Grafton Lakes BCA is within Grafton Lakes State Park. The forest community consists primarily of beech-maple mesic, hemlock-northern hardwood, and spruce-northern hardwood forests but also boasts over 70 acres of wetlands as well as over 300 acres of lakes and associated shorelines. Grafton Lakes BCA is a stopover site for Neotropical migratory songbirds especially forest dwelling migrants during both spring and fall migrations. The site supports a diversity of birds associated with upland forest. It is also a significant site for forest breeding raptors such as the state species of special concern Cooper's Hawk (possible breeder) and Red-shouldered Hawk (probable breeder).
Download a copy of the BCA map.
Deer and small game hunting are allowed in season. Hunting permit dates run coincide with the NYS DEC hunting permit dates.
A valid hunting license is required to obtain a Grafton Lakes hunting permit.
Hunting Permit Procedure for Grafton Lakes, Cherry Plain and Bennington Battlefield
Renewals – If you have a hunting permit from within the last 2 years and would like to renew it, please call (518-279-1155) or email (laura.weir@parks.ny.gov & melissaann.miller@parks.ny.gov the park office for us to renew your permit.
New Permits – If you have not had a park hunting permit within the last 2 years or would like to obtain one, please complete the hunting permit (PDF provided) and return a scanned copy of the document (no pictures of the permit will be accepted) to the park office via email (laura.weir@parks.ny.gov & melissaann.miller@parks.ny.gov) or mail P.O. Box 163, Grafton, NY 12082. Please also include a copy of your current hunting license with the permit and provide contact information for where you'd like the permit returned to you (mail or email address). Once we receive it, we will issue a new permit and return it to you.
Any questions please call the park office at 518-279-1155 or email laura.weir@parks.ny.gov & melissaann.miller@parks.ny.gov.
Hunters must sign in and out of the park at the office daily when hunting within the boundaries of the park.
Hunting is not permitted within 500 feet of any building, road, playground, or parking lot, and all trails are considered safety zones where hunting is not allowed.
Memorial Day Sand Sculpture Contest
Monday, May 30, 2022 12:00 PM - 02:00 PM
Grafton Lakes State Park
Who will bring their best grain game to the beach this year? Register at 12pm by the Lifeguard Station at Long Pond Beach. Must provide your own tools and props. Judging at 2pm, awards at 2:30pm. Free to enter, prizes for all! No pre-registration.
National Trails Day
Saturday, June 4, 2022 08:30 AM - 12:00 PM
Grafton Lakes State Park
Grafton Lakes State Park and the Friends of Grafton Lakes State Park will host a National Trails Day event on Saturday, June 4th. The summer has just begun, and the park could use your help! Join us to restore and maintain the trail system. Pre-registration is required. Spots are limited. The event is free of charge and will take place from 8:30 AM - 12 PM. Call: 518-279-1155 to reserve a spot!