Both NY SHPO and the National Park Service's Technical Preservation Services unit are operating in telework status. NY SHPO continues to review and approve federal and state commercial rehabilitation tax credit paperwork for submission to the NPS, but understands there could be delays in the Park Service's ability to log and process this paperwork. Our office continues to process NYS Historic Homeowner Tax Credit applications within 30 days of hard-copy submittal.
NYS Historic Preservation Office Message
New York's State Historic Preservation Office (SHPO) helps communities identify, evaluate, preserve, and revitalize their historic, archeological, and cultural resources. The SHPO administers programs authorized by both the National Historic Preservation Act of 1966 and the New York State Historic Preservation Act of 1980. These programs, including the Statewide Historic Resources Survey, the New York State and National Registers of Historic Places, the federal historic rehabilitation tax credit, the Certified Local Government program, the state historic preservation grants program, state and federal environmental review, and a wide range of technical assistance, are provided through a network of teams assigned to territories across the state. The SHPO works with governments, the public, and educational and not-for-profit organizations to raise historic preservation awareness, to instill in New Yorkers a sense of pride in the state's unique history and to encourage heritage tourism and community revitalization.
Preservation Works!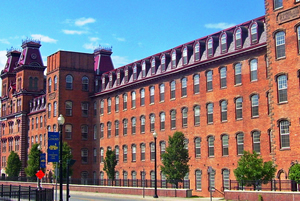 Lofts at Harmony Mills
Cohoes, Albany County