In 2024, all Access Pass applicants, regardless of age, will be required to submit proof of NYS residency in the form of a NYS DMV issued Driver's License or Non-Driver ID card. Temporary Non-Driver ID cards will be accepted as proof of residency when applying.
Information on a NYS DMV issued Non-Driver ID, which can be obtained at any age, can be found at: https://dmv.ny.gov/id-card/get-non-driver-id-card-ndid

.
Your NYS DMV issued ID will need to be presented with your Access Pass upon request by NYS Parks staff. Valid Access Pass laminated cards will be accepted until their expiration.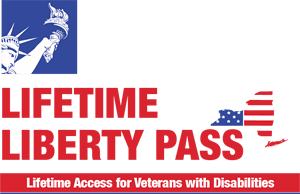 The Lifetime Liberty Pass permits qualified New York State veterans with disabilities discounted use of state parks, historic sites, and recreational facilities operated by the Office of Parks, Recreation and Historic Preservation (NYS Parks) and the Department of Environmental Conservation (DEC). Once issued, the Lifetime Liberty Pass will never expire!
The Lifetime Liberty Pass benefits include free vehicle entry to most state parks and DEC-operated day-use areas, as well as numerous state boat launch sites, historic sites, arboretums, and park preserves; free golf at State Park golf courses; free swimming pool entrance at State Park pools; and discounted camping and cabin rentals at most State Park and DEC campgrounds. The pass holder must be present when attempting to use it for free or discounted use of facilities. The Lifetime Liberty Pass is not valid for amenities, including some services or locations operated by an outside concessionaire.
To see a complete listing of benefits, restrictions and rules, please view the Lifetime Liberty Pass Guidelines For Use.
Individual Lifetime Liberty Pass
To qualify for the pass, the veteran must be a New York State resident and have a 40% or greater service-connected disability as certified by the United States Department of Veterans Affairs (USVA), or who has at any time been awarded by the Federal government an allowance towards the purchase of an automobile or who is eligible for such an award.
To apply for a Lifetime Liberty Pass, the individual must submit three documents to accesspass@parks.ny.gov or by mail:
A photo or copy of your NYS DMV issued identification (For proof of New York State residency)
A Summary of Benefits from the USVA, OR a Ratings Decision from the USVA, OR a letter from the New York State Department of Veterans' Services. The document must be dated within one year of applying.
As a veteran, are you aware of all your benefits?
Learn more at
www.veterans.ny.gov
Call 1-888-VETSNYS (838-7697)
A copy of our most recent application can be found below:
Review the guidelines of the program:
When you have all the documents needed to apply, please submit your application to accesspass@parks.ny.gov
Or mail your application to:
Lifetime Liberty Pass
State Parks
Albany, New York 12238
For more information, contact accesspass@parks.ny.gov or call 518-474-2324.
Demand for Lifetime Liberty passes vary throughout the year. It may take up to one month for you to receive your Pass. Please apply well in advance of your planned visit.