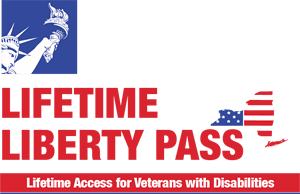 The Lifetime Liberty Pass permits qualified New York State veterans with disabilities discounted use of state parks, historic sites, and recreational facilities operated by the Office Parks, Recreation and Historic Preservation (State Parks) and the state Department of Environmental Conservation (DEC). Once issued, the Lifetime Liberty Pass will never have to be renewed!
The Lifetime Liberty Pass benefits includes free vehicle entry to state parks and DEC-operated day-use areas, as well as numerous state boat launch sites, historic sites, arboretums and park preserves; free golf at State Park golf courses; free swimming pool entrance at State Park pools, and discounted camping and cabin rentals at most State Park and DEC campgrounds.
To qualify for the pass, the veteran must be a resident of New York State and provide State Parks with written certification from the United States Veterans Administration or the New York State Division of Veterans Affairs that the applicant is a war veteran with a 40% or greater service connected disability as certified by the United States Veterans Administration, or who has at any time been awarded by the Federal government an allowance towards the purchase of an automobile or who is eligible for such an award.
Note: New York State veterans with disabilities who currently hold a valid Access Pass may continue to use their pass for its duration. Prior to expiration, the pass-holder will need to submit their Lifetime Liberty application, VA documentation, and a copy of their valid NYS driver's license or non-driver ID.
Individual Lifetime Liberty Pass
To apply for the Lifetime Liberty Pass, veterans should submit a Lifetime Liberty Pass Application, and indicate they are a Veteran using the Veterans Administration/Veterans Affairs certification. They will be issued their own distinctive Lifetime Liberty Pass.
As a veteran, are you aware of
all your benefits?
Learn more at
www.veterans.ny.gov
Call 1-888-VETSNYS (838-7697)
Lifetime Liberty Pass
State Parks
Albany, New York 12238
For more information, contact 518-474-2324 during normal business hours or email accesspass@parks.ny.gov
Please allow 2-4 weeks for processing of this application.