Please be aware that operations may be impacted due to COVID-19, and capacity restrictions may be in place for the upcoming season. Please decide whether an Empire Pass is the right purchase for you and your family as all Empire Pass products are non-returnable and non-refundable after purchase.
If you are ordering a new Empire Pass, please allow 7-10 business days to receive it by U.S standard mail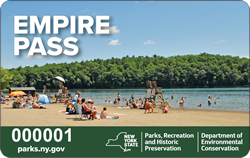 A wallet-sized Empire Pass Card that can be shared within a household is now available. It's a family-friendly alternative to the traditional window decal, and not assigned to a specific vehicle. The card can be used by parents, grandparents, caregivers and others.
The Empire Pass is your key to all-season enjoyment at New York State Parks. It provides unlimited day-use vehicle entry to most facilities operated by New York State Parks and the State Dept. of Environmental Conservation including forests, beaches, trails and more. Learn where the Empire Pass is Accepted.
Empire Passes are available for different lengths of time: choose from one-season, multi-season or lifetime KEEP YOUR PASS!, Empire Pass cards are now renewable!
2021 Empire Pass Renewals
GO GREEN! If you saved your Empire Pass card, you now have the option to renew and receive a discount!
Empire Pass cards expiring on or after December 31, 2018 are available for renewal. Passes cannot be renewed at park facilities. Card activation may take 24-48 hours, so plan in advance of your park visit
If you have an existing empire pass card check my expiration date
Online ONLY - Take advantage of the renewal discount starting in mid-November
The renewal discount will be available all year long!
| | |
| --- | --- |
| $15.00 discount | 11/17/20 - 12/31/20 |
| $10.00 discount | 01/01/21 - 03/31/21 |
| $5.00 discount | 04/01/21 - End of the season |
Please refer to the Empire Pass Guidelines for Use and the Empire Pass Frequently Asked Questions for pass replacement, volume sales and other important information.
Click here and follow the instructions to Renew My Pass!
All Empire Pass card products are non-returnable and non-refundable after purchase
2021 Season Empire Pass
2021 Season Empire Pass: Available for $80, the 2021 Season Empire Pass is a wallet-sized card that can be shared within a household and not assigned to a specific vehicle.
The 2021 Season Empire Pass is accepted through December 31, 2021.
To purchase:
Multi-Season Empire Pass
Frequent Empire Pass purchasers may be interested in a multi-season Empire Pass which can be bought online, by mail or telephone. A 3-Season Empire Pass may be purchased for $205; a 5-Season Empire Pass may be purchased for $320. Upon purchase you will be mailed an Empire Pass.
Please note:: Empire Passes purchased by check will be processed after the check is cleared for sufficient funds. Please allow for a longer wait time for delivery. (2-3 weeks)
Lifetime Empire Pass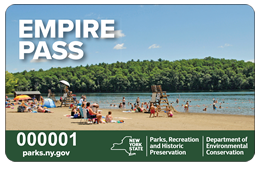 For $750 you will receive an Empire Pass card that is good for life. With no expiration date, buy it once and enjoy the parks forever! The NYS Dept. of Motor Vehicles will also issue a reprint of your driver's license, learner's permit or non-driver ID card with the maple leaf icon showing your Lifetime membership to parks.
Note: Only the Empire Pass card is acceptable to waive the vehicle entrance fee. The online order confirmation is not acceptable for admission. The Lifetime Empire Pass is not refundable and not transferrable. If it is lost, there is a fee to replace it.
*** Please be sure you want to order the Lifetime Empire Pass. Due to the nature of this sale and the issuance of a new license, all sales are final.***
Show Off Your Pride: I Love NY Parks License Plates
Parks has teamed up with the NYS Dept. of Motor Vehicles to offer three beautiful "I love NY Parks" license plates that allow you to show off your pride and passion for state parks and the great outdoors. One set (front and back) of these license plates are available for purchase to Empire Pass holders. To learn more visit NYS Dept. of Motor Vehicles.

Donate Life Registry
Become an Organ Donor and you can save the lives of 8 people and enhance countless others through tissue donation. Learn more at DonateLife.NY
Need to Replace your Empire Pass?
Empire Pass Replacement:
If the Empire Pass is lost, stolen, damaged or destroyed, it is replaceable with a $17.00 fee payable by credit card, check, money order, or cash (in person only at most NYS Parks).
A replacement may be ordered over the phone, by mail or issued in person at the facility. All require the following:
A completed Empire Pass Replacement Request form or a letter requesting replacement and explaining the circumstances.
The damaged or destroyed pass or, if the pass was lost, verification of the original pass purchase.
NOTE: If in the event the original pass is found after the purchase of a replacement, we will not refund the replacement fee. The original pass will have been deactivated, and is no longer usable.
All Empire Pass card products are non-returnable and non-refundable after purchase.
For more information, contact 518-474-0458 during normal business hours or email Empirepassport@parks.ny.gov