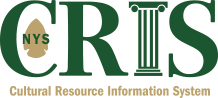 SHPO invites you to explore the Cultural Resource Information System (CRIS). This new online resource provides individuals and communities with information and tools to support the preservation and revitalization of New York State's rich heritage and culture.
CRIS is an advanced Geographic Information System program that provides access to New York State's vast historic and cultural resource databases and now digitized paper records. CRIS provides users with access to more than 1.5 million pages of digital images including, National Register documents, building and archaeological inventory forms, survey reports, and a wide variety of additional legacy data. In addition, the new system serves as an interactive portal for agencies, municipalities and others who use historic preservation programs, such as the State and Federal Income Tax Credits for Historic Properties, the State and National Registers of Historic Places Programs, the Sections 14.09 (NYSPRHPL) and 106 (NHPA) review processes, the Certified Local Government Program and building and archaeological survey programs.
CRIS was developed by the New York State Office of Parks, Recreation and Historic Preservation's Division for Historic Preservation (DHP) with funding in part from the Federal Highway Administrations.
This video provides a hands-on demonstration of the Cultural Resource Information System (CRIS) from the application's developer. Learn how to input your project's information, submit resources for evaluation, the best approach for uploading attachments and photos, and how to successfully complete an initial submission.
To have the full functionality and data in CRIS, you may sign up for an NY.gov ID account. By signing in, you will be able to monitor your submissions, projects, responses, and requests in a single dashboard. Additionally, your contact information is automatically filled in for new submissions. SHPO currently recommends that new personal, business, and government users create personal NY.gov ID accounts using their preferred email address for SHPO correspondence.
The first time you sign into CRIS with an NY.gov ID account, you will automatically be added to the CRIS user database. After you have signed in, you may click the My Profile link in the upper right corner of the CRIS page to edit your contact information (such as organization, address, and phone number). This information will automatically be entered in the primary contact form when you start a new submission.
Browser Compatibility Notice: Internet Explorer 9 and earlier are known to have compatibility issues with CRIS. SHPO recommends using IE10+ or any other up-to-date browser to access CRIS.
For questions or technical support regarding CRIS please email: CRISHelp@parks.ny.gov